Boot Camp Prepares Missouri Journalism Students to Apply for Internships
Sessions Focused on Interview Skills, Resumes, Online Personas and More
Columbia, Mo. (Dec. 4, 2013) — More than 150 Missouri School of Journalism students participated in the recent Internship Boot Camp, an opportunity to polish their cover letters and resumes, practice interview skills and to learn more about professionalism in the workplace.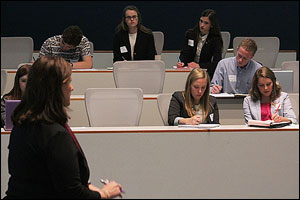 The five-hour boot camp offered 20 hours of instruction aimed at sophomores and juniors who are on the hunt for internship experiences next summer. Students learned the importance of professional dress and why professionals believe grammar matters, even when it comes to what students post on their social media accounts.
Students gathered information and participated in interactive sessions with professionals from a variety of companies: Kirby Cole, director of talent acquisition, and Jennifer Pruett, vice president of internal communications, from FleishmanHillard; Bill Smith, director of new media at KSHB-TV in Kansas City; David Cawthon, MA '12, and Jonas Weir, BJ '13, associate editors at Missouri Life magazine; Jarrett Medlin, BJ '03, MA '05, editor in chief of St. Louis Magazine; and Marcia Koenig, director of newsroom administration at the St. Louis Post-Dispatch. Faculty members from the Missouri School of Journalism and the University of Missouri's Communication Department, Trulaske College of Business and Law School also led sessions.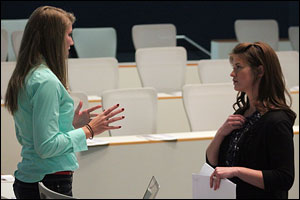 The Internship Boot Camp was a first for the School. It was designed to complement the job preparation instruction offered extensively throughout the journalism curriculum as well as the School's Career Services office.
"These kinds of workshops help provide students with confidence and ensure their success as they show employers what they're ready to do on the job," said Lynda Kraxberger, associate dean for undergraduate studies.
Junior Jill Ornitz is one who now feels better prepared to answer the "tell me about yourself" question that often starts an interview.
"I feel most students get stumped when they're asked to tell an interviewer about themselves, but the exercises we did in that session made answering that question much easier," Ornitz said. "I feel more confident in my ability to make a great first impression during an interview."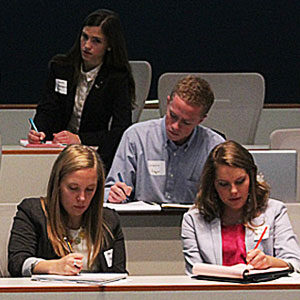 The participants hope to follow in the footsteps of Missouri journalism students who have contributed their skills at internships at some of the world's top print, digital and broadcast news organizations, magazines, ad/public relations agencies and other companies. Domestic locations include New York, Washington, Chicago, Los Angeles and Dallas. International sites include London, Jerusalem, Brussels and Munich.
Student organizers Taylor Soldner and Katrina Molholm began preparations for the event in early August and worked with Barbara Willis, coordinator of the School's Career Services office, and others to organize the event.
Many of the student volunteers were members of the Journalism Student Council, which also supported the event by hiring a professional photographer to provide students with portfolio photos.
Updated: July 21, 2020
Related Stories
Expand All
Collapse All
---