London Internships Help Missouri Journalism Students Polish Portfolios and Gain First-Hand Global Experiences
Glimpse into Professional Life Excites the Group about Their Futures
London (Aug. 7, 2013) — A royal baby's birth, Wimbledon and West End theatre: All add up to an unforgettable summer for Missouri School of Journalism students studying in London.
In May, 18 students began a 12-week internship and study program allowing them to polish their portfolios in a world-class city of more than 8 million people. Through a competitive process, students were placed in internships including the BBC's Radio Times, CNBC, Fox News, The Independent, Premier Marketing, Captive Minds and many other niche magazines and public relations organizations.
The London program is one of seven internship-based programs sponsored by the School's Global Programs office. In 2013, 156 students participated in these programs under the supervision of a Missouri School of Journalism faculty member.
During their summer, students tackled the Tube, London's public transportation system, developed a taste for tea and all perfected the work routines in a variety of roles from design to videography, as well as writing creative pitches and traditional news stories.
After immersing themselves in British workplaces for 20 hours a week, students used class time to learn about British culture and history with visits to the seaside town of Brighton, learning about street art in the historic Brick Lane district and observing British sport via Wembley football stadium.
When they weren't in class, students expanded their horizons in Ireland, Scotland and Wales. Others logged their miles via planes, trains and ferries to everywhere from Amsterdam and Budapest to Cologne and Rome.
"This group of students proved themselves to be highly motivated and flexible," said Associate Dean Lynda Kraxberger who supervised the students in the London program. "I was impressed with the high quality of their work and how well they adapted to changing demands on them, depending on whether they were at their internships, in class or off on a side trip."
In their own words, the students share highlights of their summer working and living in London.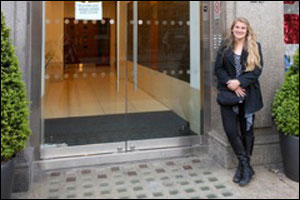 Holland Baker
Internship: Business Traveller magazine
Area of Study: Magazine Journalism
Hometown: El Dorado Hills, Calif.
Business Traveller magazine is a publication that focuses on providing inside information and advice for those who frequently travel for their career. The magazine offers reviews of business-class seats on European airlines as well as reviews of hotel rooms in some of the world's major capital cities. The publication also gives advice on how to travel efficiently and where to visit when travelers have free time while on their business trips.
My internship tasks included compiling the "What's On" events page, fact checking all articles and stories scheduled to run in the magazine, gathering photos for some sections, transcribing interviews for on-staff writers and helping research any extra information that on-staff writers may need. I also helped with other Panacea Publishing publications, which include Buying Business Travel magazine and SeatPlans.com.
I learned a lot about the magazine publishing process as I was able to help with each stage, including research, writing, fact checking and copy editing. I also learned about the world of the business traveler and how to report for a niche audience, diversifying my writing skills.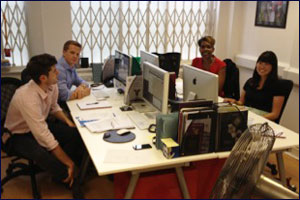 Delia Cai
Internship: Captive Minds
Area of Study: Strategic Communication
Hometown: Peoria, Ill.
Throw the words "London," "summer" and "PR internship" into a blender, and the result is a weekend working at MINT Polo in the Park, the world's largest three-day polo event and one of our clients at Captive Minds. As part of the Captive Minds team, I managed the event's Twitter account, fielded calls in the press office and escorted members of the media around the historic polo grounds of Hurlingham Park and the weekend's 28,000 attendees. I even got to watch a few polo chukkas (periods of play) myself! It was everything I thought working in PR would be – dizzy, demanding, dazzling.
After the Polo in the Park event, I spent my days in the Captive Minds office working closely with social media and public relations executives on three other main accounts: Walking with the Wounded, Glenfiddich and GB Row. In the morning, I might track media coverage on a charity ball where Prince Harry showed up, and then in the afternoon, I might find myself on the phone pitching stories to The Daily Telegraph. It's so exciting to be on the other side of the news cycle for the first time, and I can't picture myself learning so much in a summer about public relations anywhere else!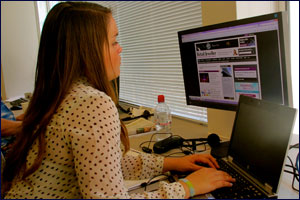 Gabriella Cruz
Internship: Retail Jeweller magazine
Area of Study: Magazine Writing
Hometown: Chandler, Ariz.
I worked at a U.K. business-to-business trade magazine called Retail Jeweller, which is circulated to some of the country's top jewelry retailers, distributors and purchasers. My online pieces consisted of brief news releases, and my published article profiled a newly-opened London jewelry shop. I learned so much about jewelry, got to talk with and develop relationships with major U.K. jewelry designers and had the privilege of working closely with the magazine's editor. Through a dedicated desire to learn, flexibility and the ability to take on any task, I've been able to prove myself a worthy addition to the fashion journalism industry.
Before this summer, my dream of working at a fashion magazine seemed only that: a dream. After being immersed in a foreign culture on top of a prominent jewelry trade magazine, my dreams are real now. They're attainable and I'm starting to live them. My close-working relationship with the magazine's editor has shown me all aspects of a magazine's publishing process: interviewing, writing, editing, designing, editing again and publication. This real-world experience has given me opportunity to 'have a go' (as they say in London) at the real world before I actually have to live in it. I'm equipped with knowledge of the industry, multiple published articles and relationships that will help me kick-start my career in fashion journalism.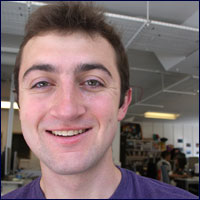 Charley Field
Internship: Premier PR
Area of Study: Strategic Communication
Hometown: St. Louis
I worked with the online team within the film department of Premier PR, the team responsible for crafting and carrying out the online public relations campaigns for the various films the company represents at any given time. We faced some interesting challenges during my time there, such as promoting films for their U.K. release after they've received rather negative reviews in the U.S. The bulk of my work for Premier has been writing feature articles in support of films, which are then sent out and published by various blogs around the Web. I have also spent a significant amount of time helping to develop campaigns for newly acquired films.
Each day is a pretty amazing experience. My walk to work takes me to the heart of Soho, only a few blocks from major companies such as NBC Universal and Studio Canal. Writing about films all day is fantastic, especially knowing that my work is published around the Web and will be part of future public relations campaigns that will still be running even after I've returned to the States. As if that wasn't enough, I also get to attend advanced screenings and premieres.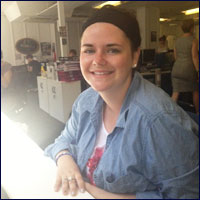 Kelly Gallagher
Internship: Premier PR
Area of Study: Strategic Communication
Hometown: Austin, Texas
I interned at Premier PR in the company's online film department. Every month Premier has a range of films it represents, from blockbusters to independent movies, all with different promotional needs that have to be met. Throughout my internship I've had the opportunity to work on promotional ideas for the specific production companies for the films. These ideas include different features for various websites, press trips and days for the media, and competitions for the fans. Once those ideas get put into a proposal, I've then written the features for the various sites. Some examples include the 30 Coolest Movies of All Time, Ryan Gosling Top 10 Sexiest Looks, and Johnny Depp Top 10 Movies. These features are then sent out in hopes they'll be put on websites to promote the films. My favorite part of the internship has been attending screenings of the films we're promoting. This has not only been a perk but has also made writing about the films that much easier.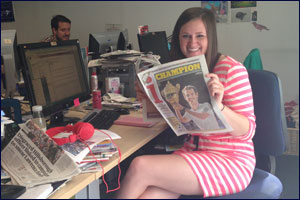 Kristen Herhold
Internship: The Independent
Area of Study: Magazine Publishing and Management
Hometown: Denver
The Independent is a national morning newspaper. Former members of The Daily Telegraph created the publication in 1986 in an attempt to create an objective newspaper free of political bias. The Independent has a daily circulation of 70,861, and its sister newspaper, the i, a circulation of about 291,000, with a combined total of more than 362,000 readers.
My internship was with the features section of both newspapers. I wrote a piece on the alternative sugar Stevia and its health benefits. My story received a full two-page spread and was even mentioned on the front page of The Independent! I also attended a master class by popular pastry chef Eric Rousseau and learned how to make his éclairs. My experience was published along with my story on the growing trend of éclairs in the United Kingdom. My editor also sent me to a private after-hours press party at the Harry Potter Studios and to the Christmas preview press party at retailer Marks and Spencer.
The opportunities given to me working for The Independent were endless. I love that this internship is allowing me to perform meaningful tasks. I have become a much better writer and journalist because of it, and I love seeing my byline in a national publication.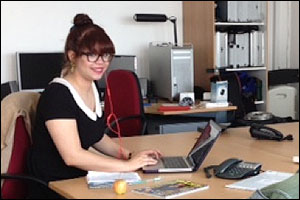 Elle Hoffman
Internship: Assisted a freelance health reporter who just launched a women's health website.
Area of Study: Print and Digital Reporting
Hometown: Marshfield, Mo.
I worked for Anna Magee, an award-winning freelance journalist specializing in women's health issues. She just launched her own women's health website, Healthista.com, which consists of original content provided by Anna, myself and my fellow intern, and various contributors. The content of this site covers topics such as healthy eating, new workouts, and harder issues such as surgery and mental health with a unique and fresh voice. My work with Anna ranged from doing transcriptions and research for her freelance work to writing and pitching stories for the site, and even creating graphics or Facebook promo images for Healthista. I went to press demos, try out products and review them based on effectiveness and healthiness – one time we even got to sample a healthy ice cream alternative – and attended a few fitness classes and reported on them. The stories I wrote are either assigned to me or are ideas I pitch to Anna.
I learned the ins and outs of freelance journalism first hand. I worked with Anna as she launched her site, which means I got to both watch and participate in the website and blog process. This summer also taught me how to jump into a topic I would not normally write about and be a productive journalist.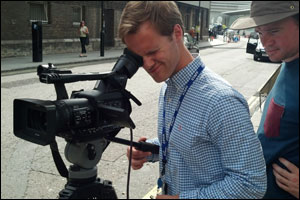 William Joy
Internship: Fox News
Area of Study: Television Journalism
Hometown: Nashville
This summer I had the opportunity to work with Fox News' bureau in London, and it was easily one of the best experiences of my life.
On my very first week I was calling sources trying to get information on the Woolwich terrorist attack and followed that up with making a package on the G8 protests in London for the Fox New Channel University website. I was able to research royal baby stories and then set up and conduct interviews and shoots for video that was used for FNC's royal baby coverage.
Apart from the actual work, I've gained a far greater knowledge of world news and events than ever before. The staff at Fox London has so many incredible stories and even more valuable experience and information that they've passed on to me. I'd previously done internships at TV stations in my hometown of Nashville, so it was nice to get experience for a network, and more than that, a bureau in another country. I've been happy with my internship since day one, and I enjoyed what I got to do every day.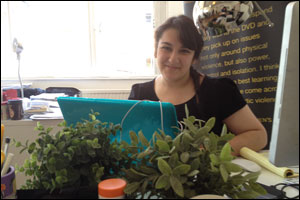 Sapna Khatri
Internship: Latimer Creative Media
Area of Study: Strategic Communication
Hometown: St. Peter's, Mo.
The Latimer Group is located in a quirky office on the eclectic Lower Marsh in London. The multimedia agency aims to combine the knowledge and ideas of young people with the journalistic talents of news professionals. The collaboration brings life to the idea of co-creation: the centerpiece to all of Latimer's creations. I now understand what this working method entails, and have seen it in action in the three strands of the company: Latimer Creative Media, a multimedia agency; Latimer Inc., a marketing agency; and Latimer Films, a film production house. My involvement has ranged from serving as a creative intern to a marketing intern. As such, my duties included increasing their social media presence, search engine optimization, business development and production assistance. By being able to spread my wings, I have gained so much experience, which will help shape my future.
Latimer Group has helped me grow as both a student and a journalist. Co-creation definitely is king, and Latimer Group is the only company I know of to have tapped into that creative bank. To work with such an innovative group makes this one of the most incredible summers I could have asked for.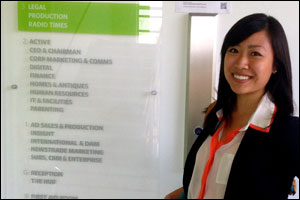 Jennifer Liu
Internship: Radio Times
Area of Study: Magazine Editing
Hometown: Columbia, Mo.
Radio Times is the third largest-selling magazine in the U.K., winner of the 2013 Professional Publisher Association's award for Consumer Magazine of the Year. I worked for the magazine's Web department, researching and writing about breaking news in the entertainment world. I covered movie premieres, film screenings and interviews with Hollywood filmmakers. I worked on a special section to commemorate the final eight episodes of the TV crime drama Breaking Bad and wrote hotel and attraction reviews for the site's new travel section.
I expanded my deadline writing and editing versatility by writing for the Web. I learned how to adapt to a style and voice of an organization at first completely new to me, and I proved my reporting abilities enough to be put on bigger projects. I got an inside look at the work it takes to keep an entertainment website running with a small core staff, how to keep the community engaged in what we produce and how to best address their needs. This internship reinforced the importance of skills such as effective planning, time management, communication and creativity. I also learned to be flexible in adjusting to a new environment while being open-minded and curious to understand why certain things work differently in new situations.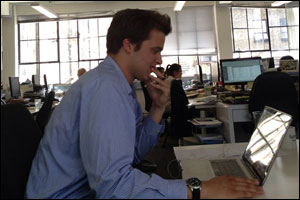 John Lynch
Internship: Snack Media
Area of Study: Strategic Communication
Hometown: Glenview, Ill.
As a huge sports fanatic, this internship at a sports media branding agency in London has been an absolute joy and an experience I wouldn't trade for anything. I always placed an emphasis on wanting to do something relating to sports. Snack Media has given me this opportunity but in a different form that I had once imagined as it has allowed me to broaden my horizon and learn more about major European sports.
A normal day of work usually consists of doing research on a developing story in English soccer and then writing an article on it or developing Web content. Those articles get published on FootballFanCast.com, one of the 27 websites that Snack Media runs. I had plenty of other professional experiences outside the office. The highlight would be working for Ford on their social media team at the UEFA Champions League Festival in late May.
A day of work can consist of doing anything from writing an article, designing a jersey or creating Web content. Working on these types of projects has given me plenty of confidence going forward. The opportunity to work with different areas of sports journalism is something that will be very beneficial when I interview with companies in the near future.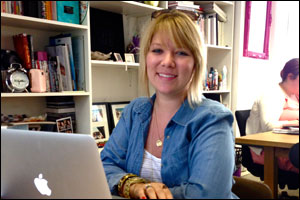 Brianna Peters
Internship: Beauty and the Dirt
Area of Study: Strategic Communication
Hometown: Belleville, Ill.
Beauty and the Dirt is an online women's magazine geared towards young women about beauty, fashion, entertainment and lifestyle. Started in 2000, before any other women's magazine was published online, the site has achieved a readership reach of more than 120,000 women internationally. The founder, beauty industry connoisseur Krista Madden, began the website after owning a hair and make-up company and realizing that everyday women wanted the "dirt" on behind-the-scenes beauty tips. My work at Beauty and the Dirt was a very hands-on experience in which I researched, wrote and published articles about new information daily. On some occasions, I was given special projects to complete for advertisers and clients. In one instance, I sifted through exclusive photographs of celebrities with hair by Johnnie Sapong from the Cannes Film Festival for a hair campaign for Leonor Greyl.
Working in London has been such a rewarding experience for me. I've learned to work outside of my comfort zone and adapt to an entirely different working culture. I believe this opportunity will open doors for me around the world and show future employers that I can succeed in a variety different of settings.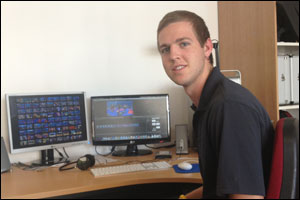 Brian Ruehlmann
Internship: Starfire Television
Area of Study: Television Journalism
Hometown: Wheaton, Ill.
Tony Still and Kevin Magee are two journalists who founded Starfire Television a couple years ago with the vision of developing content for sporting events. This ranges from filming the opening and closing ceremonies for the London Olympics in 2012, to covering cricket tournaments held around the world, to producing instructional apps that teach youths how to play sports.
As the first intern for this company, I took on various assignments. I wrote up several reports analyzing problems and solutions for the websites of sports organizations ITTF (International Table Tennis Federation) and FIM (International Motorcycling Federation). I recorded footage of the London Eye with a 360-degree camera, an investment Starfire made in the hopes of using it to create revolutionary apps.
Kevin Magee is the husband of Anna Magee, a freelance journalist who launched her new website Healthista early on in the summer. I had the privilege to help her in addition to my work with Starfire. I wrote several stories and edited numerous videos in Final Cut Pro before uploading them to the Healthista website. Starfire has provided me with valuable journalism experience I will take with me moving forward.
John Scarpinato
Internship: The Brighter Group
Area of Study: Strategic Communication
Hometown: Sherrard, Ill.
I worked for one of the largest independent travel marketing and public relations firms in the U.K. called The Brighter Group. The company is split into two distinct departments, the Representation Department and the Public Relations Department. My responsibilities as an intern fell into both of the departments work. I was asked to write a variety of different press releases for the public relations team featuring many of their clients, including Elegant Hotels, Royal Demeure, Puma Hotels, Go See Do, Travel Zoo, The Eastern Cape Parks and Tourism Agency.
The Representation Department is heavily focused on the trade side of the business. I composed the executive summary for the monthly reports sent to the Jordan Tourism Board as well as the Taiwan Tourism Bureau's quarterly newsletter. The Jordan reports and the Taiwan newsletter include news from the U.K. and coverage from their respected countries. I also gave a summary of clients' travel content in various newspapers at the weekly Monday meeting. Overall, through my responsibilities I have gained confidence and sharpened my writing skills. The experience has not only given me a glimpse into the professional world, but has also allowed me to learn from my colleagues and network for the future.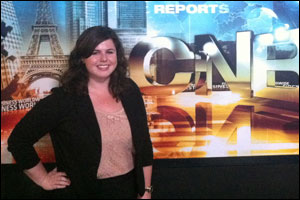 Hannah Schmidt
Internship: CNBC
Area of Study: Convergence Journalism/Multimedia Producing
Hometown: St. Charles, Mo.
CNBC is global business journalism outlet that provides businesses and investors with real-time market coverage and business news. The main newsroom is in the U.S., but CNBC has branches across the world in Europe, Africa and Asia. I interned with the London Web team, producing and creating content for CNBC.com.
I produced both CNBC and partner stories in a content management system. This includes inserting copy, choosing photos from Getty Images, writing headlines and summaries, and linking to relevant CNBC articles and videos to lead readers to other areas of the site. I also wrote articles based on interviews from CNBC's broadcasts as well as wrote feature articles.
This experience has given me the opportunity to work in a larger, international company. I'm so elated I have worked alongside a team of diverse professionals. I've learned so much and have become a stronger and more confident writer. The articles I have written will strengthen my portfolio, and the knowledge I have gained will help me in future newsrooms.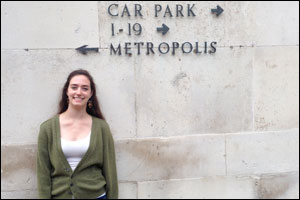 Jessica Smith
Internship: Metropolis Creative Agency
Area of Study: Strategic Communication/Design
Hometown: Northbrook, Ill.
Coming to London has opened me up to a new world of marketing and graphic design. I interned at the Metropolis Creative Agency, a division of Metropolis London Music Limited. Metropolis is one of the world's most elite, privately owned recording studios in the world. With clients including Will.I.Am, Rihanna and Amy Winehouse, 50 percent of the world's top 40 tracks are recorded at their studios. In the Creative Agency, we work with music and movie industry clients to create motion graphics, DVD menus, CD artwork and the like.
The main focus of my internship was to create marketing material to send to potential creative agency clients. I worked on two different campaign ideas, creating a variety of items including fliers, posters, e-mails and client gift bags with custom chocolate bars and other Metropolis branded items. The work I created was sent directly to clients as well as used to make posters for promotions events at Metropolis.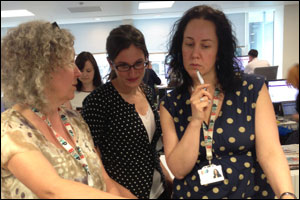 Hilary Weaver
Internship: Nursing Times
Area of Study: Magazine Editing
Hometown: Jefferson City, Mo.
I was an editorial intern at Nursing Times, a trade publication that serves nurses and nursing students in the U.K. It is published out of EMAP Publishing, along with 15 other trade publications. The magazine is a weekly publication, and its website receives significant attention from its learning resources and service pieces for nurses, especially in the student section of the website.
As an intern, I was responsible for writing the weekly role-model feature about nurses whose work has made a significant impact in the U.K. I also copy edited several stories each week, including comment pieces written by local nurses from the Practice and Learning section of the publication.
This summer, I've learned to become comfortable with writing about a subject with which I have little previous experience. My time here has helped me realize that I can easily adapt as a new journalistic environment and bring my previous knowledge to a publication. I've also enjoyed working with colleagues who appreciate my skills while providing me with an invaluable learning environment.
Updated: October 16, 2020
Related Stories
Expand All
Collapse All
---