Doctoral Student Is Awarded a U.S. Department of State Critical Language Scholarship
Liz Lance Will Study Bengali in Dhaka This Summer
Columbia, Mo. (May 2, 2012) — Doctoral student Liz Lance has been awarded a U.S. Department of State Critical Language Scholarship to study Bengali in Dhaka this summer.
Lance, MA '11, was one of 631 students selected from nearly 240 U.S. colleges and universities. More than 5,200 students applied for the award to study one of 13 different languages, which places CLS among some of the most competitive scholarship competitions in the United States.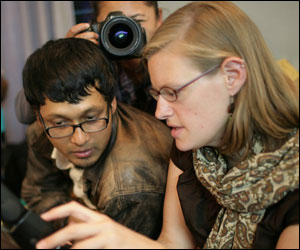 The monies will allow Lance to broaden her capabilities for doing comparative media research in India and Bangladesh. Her research examines the political economy of media in South Asia and American influence on the development of normative press theory in South Asia.
Lance became interested in learning an Indian language while pursuing her bachelor's degree in South Asian Studies at the University of Wisconsin, Madison. As an undergraduate, she spent one academic year studying abroad on the Wisconsin College Year in Nepal program and became fluent in Nepali. She has since lived three additional years in Nepal, most recently on a Fulbright U.S. Student Fellowship in 2008-09. Lance has also traveled extensively in India.
While in Nepal on her Fulbright fellowship, Lance traveled to Bangladesh in 2009 with a group of Nepali photojournalists for the biannual Chobi Mela International Festival of Photography.
"Being in Dhaka for Chobi Mela was a great way to see all corners of the city and to see the appreciation Bangladeshis have for the visual arts," Lance said. "Though I'm returning to Dhaka for a different purpose now, it will be great to build on my past experience there, which was highly influenced by contemporary Bengali photojournalism."
Assistant Professor Tim Vos said that Lance's background and research interests address a critical need in international journalism research.
"Her Fulbright research in Nepal and her commitment to studying media and culture in Asia made her a very attractive candidate for our doctoral program," he said. "We share Liz's excitement for bringing a comparative focus to Nepal, India and the region."
Updated: June 8, 2020
Related Stories
Expand All
Collapse All
---