Laura Pohl Receives U.S. Student Fulbright Award
Washington, D.C. (Aug. 23, 2005) — Laura Pohl, a master's student at the Missouri School of Journalism, has received a Fulbright grant to South Korea in Journalism, the United States Department of State and the J. William Fulbright Foreign Scholarship Board announced recently.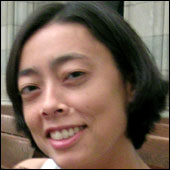 Pohl, a photojournalism student from Newport News, Va., will be photographing North Korean defectors adjusting to life in South Korea. She first became interested in this topic while working as a business reporter in Seoul from 2001 to 2003. Pohl will be one of more than 1,000 U.S. students to travel abroad for the 2005-2006 academic year through the Fulbright Program. Established in 1946 under legislation introduced by the late Senator J. William Fulbright of Arkansas, the Program's purpose is to build mutual understanding between the people of the United States and the rest of the world.
"Laura's work is the sort of in-depth and creative approach to journalism that we expect from Missouri students. Her willingness to spend a year documenting the lives of those who have abandoned not just country but often friends, family and careers to seek a better life speaks to the immigrant experience everywhere," said Lee Wilkins, a professor and director of graduate studies. "The fact that her work will take place in South Korea focuses on the international nature of this problem, and the role that thoughtful journalism can play in public understanding of this issue. We are very proud of her and of her work."
The Fulbright Program, America's flagship international educational exchange program, is sponsored by the United States Department of State, Bureau of Educational and Cultural Affairs. Since its inception, the Fulbright Program has exchanged over a quarter of a million people – 100,900 Americans who have studied, taught or researched abroad and 166,600 students, scholars and teachers from other countries who have engaged in similar activities in the United States. The program operates in over 150 countries worldwide.
Recipients of Fulbright awards are selected on the basis of academic or professional achievement, as well as demonstrated leadership potential in their fields. Among the thousands of prominent Fulbright alumni are: Craig Barrett, former chief executive officer of Intel Corporation; Marek Belka, Prime Minister, Poland; Mohamed Benaissa, Minister for Foreign Affairs and Cooperation, Morocco; Chan Heng Chee, Ambassador to the U.S., Singapore; Luis Ernesto Derbez, Minister of Foreign Affairs, Mexico; Renee Fleming, opera singer; Dolores Kendrick, Poet Laureate of the District of Columbia; Daniel Libeskind, architect; Robert Shaye, founder and co-chairman, New Line Cinema; Javier Solana, Foreign Policy Chief, European Union; Joseph Stiglitz, Nobel Laureate in Economics; and Muhammed Yunus, managing director and founder of the Grameen Bank.
Fulbright grantees are among over 30,000 individuals participating in U.S. Department of State exchange programs each year. For more than 40 years, the Bureau of Educational and Cultural Affairs has supported programs that seek to promote mutual understanding and respect between the people of the United States and the people of other countries.
Updated: April 7, 2020
Related Stories
Expand All
Collapse All
---