Journalism Master's Student Wins Prestigious Fulbright Scholarship to Germany
Columbia, Mo. (April 16, 2007) — Robin Hoecker, a master's student at the Missouri School of Journalism, has received one of five Fulbright Beginning Professional Journalism Awards to Germany, the U.S. Department of State and the J. William Fulbright Foreign Scholarship Board announced recently.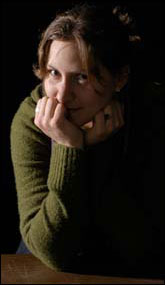 During her 10-month Fulbright program, Hoecker, from Monroeville, Pa., will study how photojournalism and citizen journalism can be used to promote dialogue among ethnic groups in Germany. She will spend the first few months studying and conducting independent research, followed by one or more internships or guest journalist positions at German newspapers, publishers or television and radio stations. Additional research may be conducted at a German university or other research institution. Hoecker is nearly fluent in the German language.
"Robin is a talented, creative and courageous photojournalist who is constantly on the lookout for new ways to see the world," said Michael Jonathan Grinfeld, associate professor of magazine journalism with whom Hoecker has worked as a research assistant for two years. "What the Fulbright committee did is recognize her potential to do important work, and I'm glad she'll now have the opportunity to complete a worthwhile project."
Hoecker has tailored her graduate studies to focus on photojournalism and writing. As a research assistant at the Center for the Study of Conflict, Law and the Media, she maintains the Center's Web site, helps organize conferences, such as the fall 2006 "News Reporting and its Influence on Conflict" symposium, and contributes to various research projects. One such research paper was presented at the 2006 Association for Education in Journalism and Mass Communication conference. Hoecker's thesis discusses the role of photojournalism in Peru's truth and reconciliation process. Zoe Smith, a professor of photojournalism, serves as her thesis adviser.
"As a fellow Pennsylvanian, I am very proud of Robin," Smith said. "Her interest in conflict resolution has led her to a wonderful master's thesis topic and will be central to her work in Germany. Robin is a very accomplished young woman who will be a terrific representative of the Missouri School of Journalism while overseas."
Hoecker earned her bachelor's degree in international development from Penn State University in 2002. She also graduated with minors in international studies and French, and with honors in African-American studies and communication. Her honors thesis, "The Black and White Behind the Blue and White: The History of Black Student Protests at Penn State," included a photo-documentary of events at the school in 2000-2001. She studied abroad in France and Senegal, West Africa.
The Fulbright Program, America's flagship international educational exchange program, is sponsored by the U.S. Department of State, Bureau of Educational and Cultural Affairs. Since its inception, the Fulbright Program has provided more than 273,000 participants – chosen for their leadership potential – with an opportunity to observe each others' political, economic, educational and cultural institutions, to exchange ideas and to embark on joint ventures of importance to the general welfare of the world.
The program operates in more than 155 countries worldwide.
Updated: April 16, 2020
Related Stories
Expand All
Collapse All
---