Journalism Student to Participate in Fully Funded Exchange Program in Germany
Columbia, Mo. (March 13, 2009) — For the second summer in a row, a Missouri School of Journalism student has been accepted to participate in the fully funded DAAD interXchange internship for journalism students in Berlin, Germany.
This year Paul Weber, a journalism and German major, will take part in a structured 11-week study/internship program in Germany, along with 19 other American students. Last year journalism and German major Lindsey Foat participated in the program.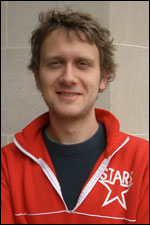 "I was excited to have the opportunity to leave the country, and I feel like it's an opportunity that I can make more out of it," Weber said. "It's in my hands now, and that's a good feeling."
Weber, who will graduate in May, said he first heard of the program through from professors in the German department. Having always wanted to visit Germany, he decided this internship was a great opportunity.
"I'd like to cement my German, make it better," Weber said. "I want to get some media experience in Germany and hopefully stay over there for awhile."
He said he believes his work at the School helped during the application process.
"Being able to show my Missourian work and talk about my reporting experience was probably what landed it for me," Weber said. "Some people going out for the internship had an interest in journalism but didn't have any clips to show or tales to tell. I happened to have some pretty good ones."
For the first six weeks, participants will expand their academic understanding of the politics, society and culture of Germany as well as the country's current social conditions and media scene. Participants then will do a week of project work with journalism students from the independent states of the former Soviet Union and subsequently embark on an intensive four-week internship with a German newspaper, magazine or radio station.
The 20 applicants will be awarded a monthly stipend of 650 Euros for the duration of their stay in Germany. DAAD will provide participants a partial travel subsidy of approximately 350 Euros toward the cost of international transportation to Germany along with health and accident insurance.
Updated: April 30, 2020
Related Stories
Expand All
Collapse All
---