Alumni Profile: Erik Hall
Columbia, Mo. (Sept. 5, 2017) — The best way to make a change is to be the change. For strategic communication alum Erik Hall, being the change means using his position to spread awareness about LGBTQ issues.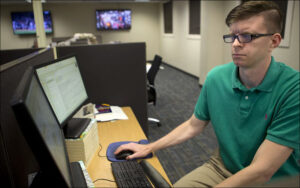 Hall, who once walked the halls of the Missouri School of Journalism, is now a freelance writer for OutSports and writes about LGBTQ issues in the sports world and the various experiences of LGTBQ athletes.
"I try to talk about the things that people are afraid to talk about," Hall said. "There is a lot of value in writing about LGBTQ issues, especially in sports, because it is just not a common topic to write about."
On Aug. 7, Hall's hard work was recognized as he was named the LGBTQ Journalist of the Year by NLGJA, an organization dedicated to promoting fair coverage of members of the LGBTQ community. Hall was nominated for the award for his work on five OutSports articles about athletes experiencing things like coming out, harassment, accepting and expressing themselves as a member of the LGBTQ community.
"I was very thrilled to learn that I was receiving this award," Hall said. "I feel the work that I do is important, and to be recognized by my peers really means a lot."
This was not Hall's first award from the NLGJA. Last year, he won the NLGJA Award for Excellence in Journalism for sports writing.
Originally from Charleston, Illinois, Hall has a bachelor's degree in journalism from the University of Illinois and completed his master's degree in Columbia at the J-School. Hall has fond memories of working with the professors at Mizzou who helped him learn and grow as a journalist.
"As a member of the LGBTQ community, I found Mizzou to be an incredibly accepting place," Hall said.
Whether it be at Mizzou, Charleston or elsewhere, Hall's commitment to promoting accurate coverage of LGBTQ issues and fighting for change will never go unnoticed.
Updated: October 23, 2020
Related Stories
Expand All
Collapse All
---