MU Awards Senior Jessica Anania with the Mark Twain Fellowship
She Will Attend Queen's University in Belfast, Will Study Comparative Ethnic Conflict
Published by the MU Office of Undergraduate Studies
Columbia, Mo. (April 8, 2015) — On the day before spring break, Jessica Anania was summoned to the office of MU Chancellor R. Bowen Loftin. A few days earlier Anania had interviewed for the Mark Twain Fellowship, and she thought the meeting with Loftin was to answer follow-up questions before the final selection was made. However, upon arriving at Loftin's office, the chancellor congratulated her on being the award's recipient.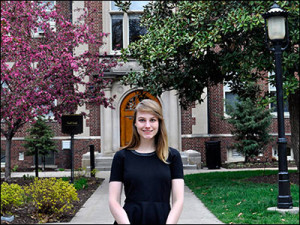 "It caught me completely off guard," Anania says. "I felt a combination of shock and gratitude."
The Mark Twain Fellowship is an MU-sponsored award that provides support for Mizzou students and recent alumni seeking to pursue graduate study abroad in any discipline. It covers full tuition and fees at a foreign university plus a stipend for living costs and roundtrip transportation.
With the fellowship, Anania will work towards a master's degree at Queen's University in Belfast, studying comparative ethnic conflict. She plans to use the degree to work with an international non-government organization investigating, documenting and recording conflict.
A native of Fishers, Indiana, Anania is a triple major in journalism (with an emphasis in international reporting), psychology and political science at MU, where she has been able to incorporate all three majors into her study of conflict.
While deciding where to pursue her postgraduate degree, she considered several options in Ireland and the United Kingdom before selecting Queen's.
"I chose Queen's because it offers an academically rigorous environment to study conflict, as well as the chance to be immersed in a city that's history is tied to conflict and the peace process," she says. "Living in Belfast will give me the opportunity to understand the lasting impact of conflict on the city and its people in a deeper, more nuanced way."
Anania was a Mitchell Scholar finalist, but did not receive the award. Students who apply for a Rhodes, Marshall, Mitchell, Fulbright, Gates Cambridge, National Science Foundation, Churchill or a comparable nationally-recognized fellowship program, but are not selected, may apply for the Mark Twain Award. Selection criteria for the Twain award include academic achievement, leadership, service and character.
"I am proud to know that my university believes in my ability to achieve after my undergraduate degree," Anania says. "Mizzou has given me so many opportunities to explore my passions and challenge myself in and out of the classroom. I am so grateful for the chance to continue that journey in Belfast."
Through the MU School of Journalism and while serving as a press liaison for the True/False Film Festival, Anania discovered the power of documentation.
"Investigating and documenting conflict is critical both to validate the experiences of people on the ground and to create systemic change," Anania says. "Comprehensive documentation – encompassing instances of human rights abuse, deaths, etc. – makes it much harder for these conflicts to be ignored by the rest of the world and can empower people to make sure their experiences are recorded and acknowledged. This information is also used by people and organizations including journalists aiming to tell accurate stories, people seeking refugee status and international court systems."
Anania has previously interned at the European Wind Energy Association in Brussels, Belgium, reported for Global Journalist in Yangon, Myanmar and worked as an assistant case manager for Columbia's Refugee and Immigration Services.
Updated: August 4, 2020
Related Stories
Expand All
Collapse All
---