Transparency, Communication, Monitoring Are Key to Crisis Communication, Research Finds
Yang Cheng Studied the 2014 Recall by General Motors, One of the Largest Crises in the History of the Automotive Industry
Columbia, Mo. (May 19, 2016) — Transparency, ongoing communication and consistent monitoring of news reports are key to handling a crisis, according to research by a Missouri School of Journalism doctoral student.
Yang Cheng studied the 2014 recall by General Motors, one of largest crises in the history of the automotive industry. Several million cars were recalled for ignition-related defects. Thousands of injury claims were filed for deaths and a wide range of physical injuries.
Her research, "Who is Leading Whom in the General Motors Recall: Understanding Media Impact on Public Relations Efforts, Public Awareness, and Financial Markets," was recently published by the Institute for Public Relations.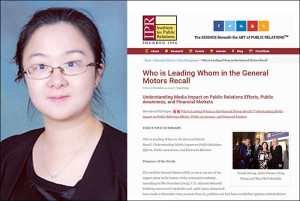 For her study, Cheng collected data from Jan. 1 through Dec. 31, 2014, that included the auto manufacturer's trading volume and share price on Yahoo Finance, press releases on the GM official website, news coverage from Dow Jones's Factiva and public awareness using Google trends.
Among Cheng's key findings are:
The news media increased the public's awareness of the recall.
The top-story-of-the-day status and negative tone of the coverage limited GM's desire and ability to lead and influence the news agenda.
Timely responses are critical to companies navigating a crisis.

In GM's case, the number of recalls was expanded significantly in February, apologies to the public were made in March, and the compensation of the victims began in June. During this period, the tonality of media coverage actually became more negative and generated higher visibility from the general public.

The higher the personal costs of a crisis – death, debilitating injuries and the like – the more a corporation's credibility is at stake.
Corporations need to think long-term in their communication efforts.

GM went through bankruptcy in 2009, reorganized itself, and became a company with a new culture. As the new CEO Mary Barra promised, the new GM was focusing on the safety of customers instead of the cost-driven production in the previous GM model. However, the restructuring of the company, changes in corporate culture, and the high cost of recalls restrained GM from an active and timely response to the ignition-switch problem, which led to a large amount of negative news coverage before its official responses.
The research suggests corporations should follow several guidelines in developing their crisis communication strategy, Cheng said.
Public relations practitioners should proactively and consistently monitor and analyze media coverage on both corporations and products to prevent and manage crises through both online and offline communication.
GM and other automotive companies might consider applying a more transparent, consistent, thematic, and dialogic communication model at the earliest stages of communication in order to gain trust and retain good stakeholder relationships.
Future GM crisis communication strategies should diverge attention from the corporate brand to products by providing a transparent disclosure of information on certain types of products and minimizing the media coverage on the whole corporation.
Cheng's doctoral adviser is Professor Glen Cameron, the Maxine Wilson Gregory Chair in Journalism Research. Her study was supported by PRIME Research. She is also working on her MBA at the Trulaske School of Business at the University of Missouri. Her research interests include public relations effectiveness and value, relationship management, crisis communication, and agenda-setting and building research. Cheng's studies have been published in leading peer-reviewed journals. She has received numerous international and national awards and honors.
Updated: September 25, 2020
Related Stories
Expand All
Collapse All
---