Doctoral Students Win Top Student Paper Award in International Research Competition
Columbia, Mo. (Feb. 18, 2011) — Two Missouri School of Journalism doctoral students will be recognized with the top student paper award at the upcoming Institute for Public Relations research conference in Miami.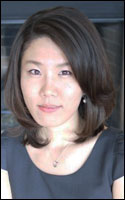 Hyojung Park and Hyunmin Lee won for their paper, "The Use of Human Voice as a Relationship Building Strategy on Social Networking Sites." The award is sponsored by the University of Miami School of Communication.
Park and Lee's research examined how the use of a conversational human voice versus an organizational presence in social networking sites such as Facebook and Twitter affects the public's responses to an organization. Their findings point to the value of using a human voice as an important factor in communicating and developing good relationships with key publics. Perceived conversational human voice appeared to promote trust, satisfaction, and commitment in relationships between an organization and its publics. Also, behavioral intentions for word-of-mouth communication were positively affected by the demonstration of a human presence. The dynamic role of human presence versus organizational presence proposed in the study adds a new perspective as to how organizations can take more advantage of interpersonal aspects of social media.
Park earned her master's degree in mass communication with an emphasis in public relations from the University of Georgia. Lee earned her master's degree in mass communication with an emphasis in public relations at the University of Florida. Glen Cameron serves as the doctoral adviser for both students.
Over its history, IPRRC has become one of the top venues for presentation of new public relations research and for interaction among scholars and public relations professionals.
Updated: May 20, 2020
Related Stories
Expand All
Collapse All
---