Journalism professors equip students with science and information literacy skills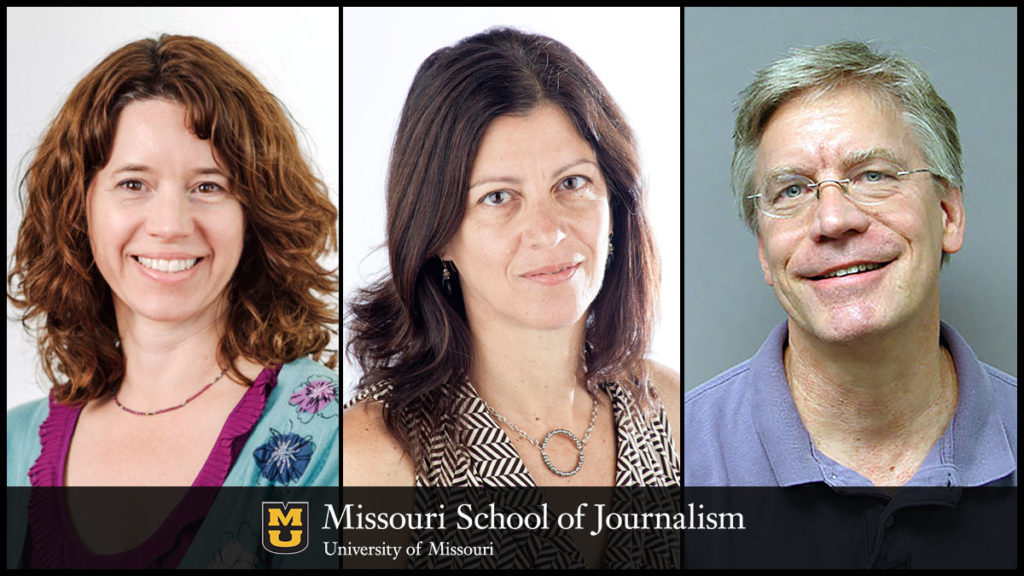 J-School faculty Sara Shipley Hiles and Katherine Reed teamed up with Peter Tipton, professor at the MU College of Agriculture, Food and Natural Resources to offer a new interdisciplinary class entitled, "Manipulation and Misrepresentation of Science: Combating Threats to Democracy."
Interdisciplinary class serves as model for other educators, findings shared in recent research paper
By Jennifer Nelson
Columbia, Mo. (Nov. 6, 2019) — In the era of "fake news" and misinformation, Missouri School of Journalism Associate Professor Sara Shipley Hiles and Professor Katherine Reed equipped interdisciplinary students with strategies for telling the truth about science.
The team paired up with biochemistry Professor Peter Tipton with the MU College of Agriculture, Food and Natural Resources to teach "Manipulation and Misrepresentation of Science: Combating Threats to Democracy." The class was offered to journalism and science, technology, engineering and math (STEM) students at MU and was intended to help students "evaluate expertise and bias, examine data and misrepresentation, and develop evidence-based communication on complex scientific topics," according to a research paper published by the three educators.
Among the topics covered in the class were: "fact-checking, validation, fraud, 'the backfire effect,' confirmation bias, limitations of the scientific method, conspiracy theories, misuse of statistics, and the role of journalists and scientists as truth-tellers in society," as laid out in the paper "Sense and Nonsense: Teaching Journalism and Science Students to be Advocates for Science and Information Literacy."
After learning how to work and communicate together throughout the semester, the journalism and STEM students worked together on multimedia projects intended to help inform the public effectively and accurately about a controversial science issue.
The teaching team concluded in the research paper, published by Journalism and Mass Communication Educator, that the interdisciplinary approach was effective and they hoped to offer the course on a regular basis, Hiles said.
Reed presented a paper on the same course in a session at the World Journalism Education Congress in Paris in July.
"The journalism school had already prepared me for recognizing bias," one student was quoted as saying in the paper. "The learning moments for me in terms of bias came from understanding that science can be skewed."
Another student said: "This class showed me an important discrepancy that occurs when people get different educations, and how important it is for all people to learn how to communicate, listen to multiple views, and analyze science information effectively. Classes like these are vital for our media-intensive future so people can discern truth from misinformation/bias."
The paper could serve as a model for other journalism and STEM educators who might want to create a similar class at their academic institution, said the researchers.
"Effective and accurate communication of science is critical to the health and welfare of the modern world," Hiles said. "Unfortunately, most science students and professional scientists aren't expert communicators, nor do many journalists receive basic training in science and math."
The course was supported by the MU Honors College.
Updated: November 10, 2020
Related Stories
Expand All
Collapse All
---