Topic of Accuracy Discussed at Chicago Conversation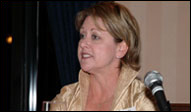 Chicago (Sept. 23, 2004) — Journalists and other media watchers recently discussed the impact of journalistic blunders on media credibility. The seminar, "Accuracy: What It Is and Who Decides," was held Sept. 23 in Chicago as part of the Journalism in the 21st Century conversations sponsored by the Missouri School of Journalism.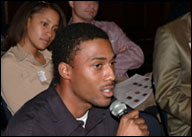 Addressing the question were Linda Eatherton, executive vice president and director of the Global Food and Nutrition Practice, Ketchum public relations, Chicago; Matt Metrik, a 20-something Chicagoan who gets his news online and through alternative media outlets; Mary Mitchell, columnist, Chicago Sun Times; Esther Thorson, associate dean for graduate studies and research, Missouri School of Journalism; and Don Wycliff, public editor and former editorial board editor, Chicago Tribune; formerly of the The New York Times. Dean Mills, professor and dean at the Missouri School of Journalism and former Moscow bureau chief of the Baltimore Sun, moderated the panel. Panelists and audience participants highlighted some of the concerns faced by journalists when reporting information. These included:
The challenges faced by media in objectivity of coverage.
The need for transparency, for disclosing sources and research.
The pressures of bottom line profitability in delivering accurate information.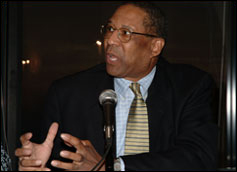 Founded in 1908 as the world's first school of journalism, the Missouri School of
Journalism has set the standards for journalism training for almost a century. The proven "Missouri Method" blends theory and practice through the university's own print, broadcast and online media, including a community newspaper, a network television station, a national public radio station, a weekly city magazine, an international magazine, and a monthly bilingual publication. Strategic communication students work with national clients on research, planning and other related projects.
Updated: March 17, 2020
Related Stories
Expand All
Collapse All
---