Journalists, Legal Scholars to Deliberate 'Truth, Trust and the First Amendment in the Digital Age'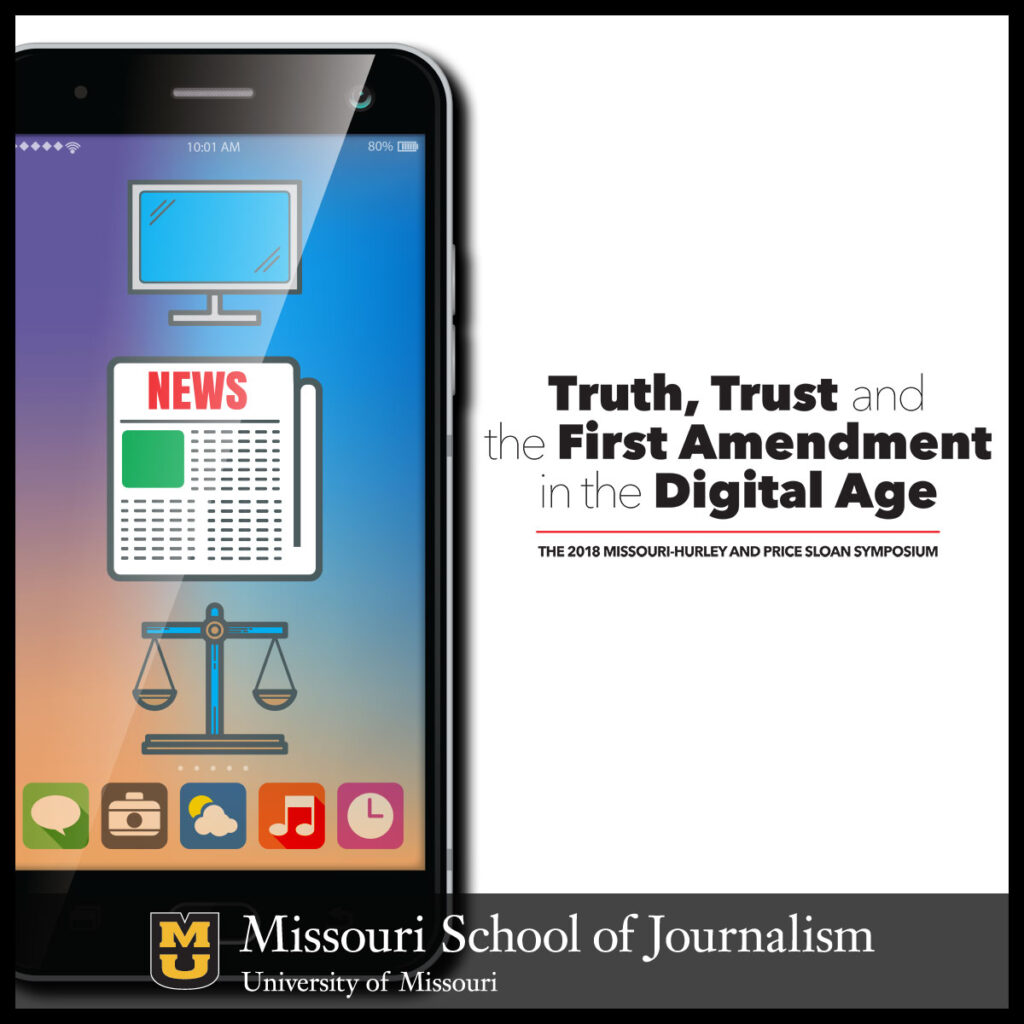 The 2018 Missouri-Hurley and Price Sloan Symposium is scheduled for Friday, April 6, 8:30 a.m. to 2 p.m., at the National Press Club in Washington, D.C.
2018 Missouri-Hurley and Price Sloan Symposium Comes at Critical Time for Constitutional Protection
Washington (March 23, 2018) — The First Amendment, a pillar of our democracy, is facing challenges like never before, according to organizers of the 2018 Missouri-Hurley and Price Sloan Symposium. Challenges range from questions about social media influence to scrutiny of libel law. Award-winning journalists and esteemed legal scholars will address the concerns, along with featured speaker Floyd Abrams, during this year's symposium, scheduled for Friday, April 6, 8:30 a.m. to 2 p.m., at the National Press Club in Washington, D.C.
Barbara Cochran, Curtis B. Hurley Chair in Public Affairs Journalism, Missouri School of Journalism, says, "Citizens want truthful information, but are facing a maelstrom of news and aren't sure which sources to trust. At a time when news media are being attacked, we've assembled an outstanding group of professionals to explore whether the First Amendment provides adequate protection for free speech and free press in the digital age."
Lyrissa Barnett Lidsky, Dean, University of Missouri School of Law, says, "Polls show that many Americans have lost faith in the ability of the news media to act as government watchdog and supply us with information vital to our understanding of public events. I'm delighted that we've been able to gather such a distinguished lineup of journalists and lawyers to discuss pressing matters such as how the media can rebuild public trust and how the law might help, how lawyers and journalists might address the many types of 'fake news,' and how citizens can get the information they need to exercise self-governance – from both new media and old."
The day will kick off with a panel of media attorneys and legal scholars moderated by Dean Lidsky. Members of the panel will be Chris Buskirk, American Greatness; Amy Gajda, Tulane University School of Law; RonNell Andersen Jones, University of Utah College of Law; Mary-Rose Papandrea, University of North Carolina School of Law; Charles Tobin, Ballard Spahr LLP; Sonja West, University of Georgia School of Law; and Kurt Wimmer, Covington and Burling LLP.
Cochran will lead the journalists' discussion with Peter Baker, The New York Times; Dan Balz, The Washington Post; Major Garrett, CBS News; Clarence Page, Chicago Tribune; Brian Stelter, CNN; Margaret Talev, Bloomberg News, and Greta Van Susteren, Voice of America.
First Amendment attorney Floyd Abrams, who represented The New York Times in the landmark Pentagon Papers case, will be the featured luncheon speaker.
The symposium's sponsors are the University of Missouri School of Journalism and School of Law; Reynolds Journalism Institute; Price Sloan Fund for Media, Ethics, and Law; and National Press Club Journalism Institute.
Updated: October 30, 2020
Related Stories
Expand All
Collapse All
---