USA TODAY Editor to Lead Discussion on First Amendment in Columbia
Amendment I: Congress shall make no law respecting an establishment of religion, or prohibiting the free exercise thereof; or abridging the freedom of speech, or of the press; or the right of the people peaceably to assemble, and to petition the government for a redress of grievances.
---
Columbia, Mo. (April 12, 2005) — Area citizens are invited to join USA TODAY Editor Ken Paulson, BJ '75, in an upcoming town hall meeting about the First Amendment.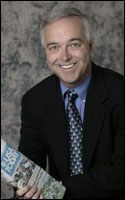 "We're looking forward to a candid conversation about America's most fundamental freedoms, including a look at the role of the news media in a free society," said Paulson."Protecting Your Right to Know: The First Amendment" will begin at 7:00 p.m., Tuesday, April 19, in 204 Neff on the University of Missouri campus.
The event will provide an opportunity for those whom the press serves to join the discussion about freedom of speech issues.
Joining Paulson will be Gene Policinski, executive director of the First Amendment Center at Vanderbilt University. Policinski will share results of the recent State of the First Amendment Survey, detailing American's views about the freedoms of speech, press and religion, along with the rights of petition and assembly.
"At the core of our democracy is each person's liberty to say what one pleases, without being censored by the government," said Charles Davis, chair of the news-editorial department and advisor to the student chapter of the Society of Professional Journalists (SPJ). "The concept is integral to a free society and worth protecting at all costs."
Paulson, an MU graduate who earned his bachelor's degree here, is a veteran journalist, lawyer and expert on First Amendment freedoms. Prior to joining USA TODAY as editor, Paulson was executive director of the First Amendment Center at Vanderbilt University. In his role there, he drew on his background as both a journalist and lawyer to promote greater understanding of the First Amendment. His syndicated column, "Inside the First Amendment," appeared in newspapers nationwide. Paulson also hosted "Speaking Freely," a weekly half-hour television program about the First Amendment and the arts.The event is sponsored by SPJ, The Missouri School of Journalism, the Donald W. Reynolds Journalism Institute, USA TODAY and the First Amendment Center.
The town hall meeting will be the first of several designed by SPJ's Project Watchdog Committee to initiate a national dialogue on First Amendment issues and the role of a free press in democratic society.
Updated: April 28, 2020
Related Stories
Expand All
Collapse All
---