USA Today Editor: "It is amazing we have fallen so far in the eyes of the public"
Kate Gilliam
Columbia Missourian
Columbia, Mo. (April 22, 2005) — USA Today Editor Ken Paulson spoke with MU journalism students, professors and Columbia residents about the First Amendment during a forum Tuesday night in Neff Hall. Paulson graduated from MU in 1975 and four of his professors were in the audience.
Irwin Gratz, president of the Society of Professional Journalists, opened the forum by saying, "I appreciate the turnout because we need to talk."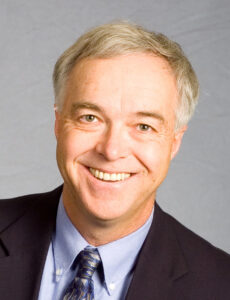 Students passed microphones through the audience, contributing to the interactive and intimate discussion.
"I loved the energy and interaction," Paulson said. "My only regret is that we didn't have a broader mix of Columbians." Demonstrated by a show of hands, an overwhelming number in the audience were somehow involved with the media.
"It would be nice for more people who aren't journalists or journalism students to hear this," said Brian Brooks, associate dean of the School of Journalism. "It's really about them, not journalists."
Journalism student Stephen Nellis said he was disappointed not to see more students, especially nonjournalism students.
"It's important to ensure that Americans understand what their rights are," Nellis said. "The only way to protect their rights is to understand them."
According to an annual survey presented at the forum, the American public places high importance on the right to exercise the five freedoms, but only 1 percent to 2 percent can name all five.
The least popular freedom is the freedom of the press, and the single greatest misperception is that the right to bear arms is one of them.
Paulson said that the media needs more face-to-face time with readers, listeners and viewers to gain a better sense of common ground.
"It is amazing to me that we have fallen so far in the eyes of the public," Paulson said.
According to the survey, 61 percent of the American public agrees with the statement that falsifying information in the media is a widespread problem.
MU School of Journalism Dean Mills warned not to get caught up in poll results.
"I don't accept that journalism or journalism training has gotten worse," Mills said. "The media is just more transparent. We're holding ourselves to a higher standard."
Andree Gelatt, retired occupational therapist, said the First Amendment needs to be preserved.
"I thought (the forum) was a very good opportunity for people to learn about the First Amendment and how it affects their lives," she said.
Paulson said protecting the First Amendment is a community-wide job because its rights resonate in everyone's lives.
For more information, visit www.firstamendmentcenter.org.
Updated: April 28, 2020
Related Stories
Expand All
Collapse All
---