McCormick Foundation Funds National Program in Support of First Amendment Education Programs
Missouri School of Journalism Is One of Only Six Schools to Receive a $5,000 Grant
Nashville, Tenn. (June 24, 2011) — The Missouri School of Journalism will receive a $5,000 grant to conduct programs in the 2011-2012 academic year as part of the national "1 for All" campaign to raise awareness of the First Amendment and the fundamental freedoms it protects.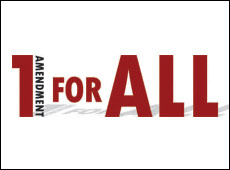 The campus program of "1 for All," called "Liberty Tree Initiative," is funded by a grant from the McCormick Foundation and brings thought-provoking First Amendment programs and speakers to university and college campuses nationwide.
"We are delighted to receive a grant award from the Liberty Tree Initiative," Davis said. "Students and faculty at the University of Missouri will take time out to think about just how precious First Amendment rights are, and to explore some of the issues being presented by new media technologies."
At Missouri the grant funds will support a special program titled "Media Law in a Digital Age: The Rules Have Changed…Have You?" discussing the changing nature of legal rights and responsibilities of citizen journalists, bloggers and those involved in new media startups. Co-sponsors for the event will be Missouri School of Journalism, the Donald W. Reynolds Journalism Institute, the National Freedom of Information Coalition and "Mizzou Advantage," a new interdisciplinary program at Missouri.
"As the 1 For All campaign celebrates its first anniversary, we're pleased to extend the Liberty Tree Initiative, a remarkable partnership that taps into the energy of the First Amendment and the insights of experts, academic leaders, artists, musicians and journalists across this country," said Ken Paulson, BJ '75, president and CEO of the First Amendment Center and a founder of "1 for All."
1 for All is a nonpartisan, collaborative effort of educators, artists, journalists, lawyers, librarians and others who believe that the American public will benefit from a greater understanding of the First Amendment and the need to protect all voices, views and faiths. Thousands of news media, arts and religious groups and other organizations from all 50 states have offered their help in support of these core freedoms.
1 for All and its campus initiative were founded in partnership with the American Society of News Editors, and with help and support from the Knight Foundation, the McCormick Foundation, the First Amendment Center and the Newseum. The First Amendment Center's annual State of the First Amendment surveys show a fundamental lack of public knowledge and understanding about the First Amendment.
Updated: June 2, 2020
Related Stories
Expand All
Collapse All
---