Access Missouri Receives $35,000 Knight Foundation Grant
KBIA-FM, Others Will Use Funding to Support Missouri Government Data Access
Columbia, Mo. (March 7, 2016) — Access Missouri has received a $35,000 grant from the Knight Foundation Knight Prototype Fund. The project is designed to help journalists and the general public easily find accurate and current Missouri state government information. The funding will help Access Missouri continue to grow its informational assets and produce tools and reporting with the help of university partners.

KBIA-FM, a national public radio affiliate, and the University of Missouri Informatics Institute created the project in 2014. Other partners include Expressive Analytics, the Missouri School of Journalism, MU Department of Political Science, the Harry S. Truman School of Public Affairs and the Kinder Institute on Constitutional Democracy. KBIA is one of the School's seven professional newsrooms that provides hands-on, real-world experience for journalism students.
In addition, the Donald W. Reynolds Journalism Institute will provide $25,000 to help the effort to get broad adoption of these tools and strategies into the news industry during this pivotal election year.
"The goal of this project has always been to increase transparency and accountability in state government," said Ryan Famuliner, director of Access Missouri and news director at KBIA. "These grants are going to allow us to build a project geared toward the 2016 election, that will allow journalists and voters to better understand the performance of their legislators, and how those legislators fit into the process."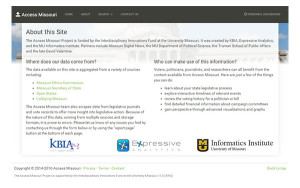 Through cross-disciplinary partnerships, about 30 students across the MU campus are working with the Access Missouri project to produce tools, visualizations and reporting for coverage of the 2016 election. Graduate students from the MU Informatics Institute and the Department of Political Science are developing a legislator efficiency rating tool. Journalism students are using data to create graphics and watchdog reporting through convergence and visualization classes. Undergraduate fellows from the Kinder Institute are designing baseball-like cards intended to provide clear and engaging legislator profiles.
"A project like this requires a variety of skills, and very few people in the world have all of those skills," Famuliner said. "It's amazing to sit in the room when we match these students up with each other. They quickly start learning from each other, and the conversations start taking the project in brand new directions."
"This project will help news organizations, citizens and democracy," said Randy Picht, executive director of the Reynolds Journalism Institute. "It's exactly the kind of project we love to support."
Updated: September 15, 2020
Related Stories
Expand All
Collapse All
---