Three Knight Editing Fellows Named for 2005-2006 Academic Year
By Rachel Kaatmann
Columbia, Mo. (Oct. 6, 2005) — Rania Adwan, Traci Angel and Rob Weir were named Knight Editing fellows at the Missouri School of Journalism for the 2005-2006 academic year.
The Knight Editing Fellowship program was started in 2002 as an opportunity for experienced journalists to serve in a teaching capacity as an editor at the Columbia Missourian. Jacqui Banaszynski, who holds the Knight Chair in Editing, created the fellowships as an experiment in helping develop newsroom editors. Both the chair and fellowship programs are funded by the John S. and James L. Knight Foundation.
"We help grow newsroom assignment editors – the people who are in the frontlines in the newsroom," Banaszynski said. "Those are positions that become increasingly pressured and important. There is very little training for those positions in the industry."
"These fellows will help us stay current. They raise different questions in the academy about what we are doing and how we are doing it. They provide another conduit for faculty and students to tap into industry when they leave. For me, it's bringing a batch of new ideas and experiences to our real media experiences," Banaszynski added.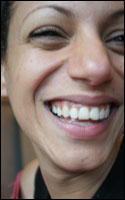 Rania Adwan is the co-editor of the general assignment beat at the Columbia Missourian, specializing in international issues. Originally from London and later moving to New York, Adwan has freelanced for several international news outlets, including Arabies Trends in Paris, Dubai Explorer in Dubai, UAE, Dazed & Confused in London and Asahi Newspaper in Japan. She also worked at several international corporate publishing companies, where she launched the first English language communications magazine, Talk* Middle East, in Dubai.
"Aside from cultural differences, and aside from working with American versus British students, I don't know of a community paper with an entire student staff. It's incredibly impressive," Adwan said. "Working with the students, I didn't realize how patient I was. It can sometimes be frustrating, but what a buzz it is to see someone else's progress, to talk them through it and see their stories."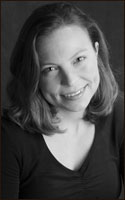 Traci Angel is the co-editor of the general assignment beat at the Columbia Missourian, specializing in state government. Before beginning the fellowship, she served as the managing editor of St. Louis Magazine, where see oversaw the neighborhood section along with Frontlines, a smaller features section and Flashback, a historical snapshot section. Angel worked at the Raytown (Mo.) Post and the Mexico (Mo.) Ledger, where she wrote sports, features and general assignment stories. She also worked as the Jefferson City correspondent, covering the state legislature for the Associated Press. Angel is a 1995 graduate of St. Louis University.
"I have really been impressed with the self-reliance that the Missourian teaches," Angel said. "My first job at a weekly paper was a lot of falling flat on my face. You do that earlier here, and it makes you more marketable. You go out, and you are three or four steps ahead. The Missourian is the class that they force a person to cultivate their story ideas in a realistic way."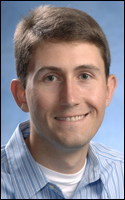 Rob Weir is the managing editor of EmPRINT, the Missourian's first downloadable, portable, multimedia digital newspaper. Weir's fellowship was created especially for EmPRINT to oversee the process of the edition and teach co-workers about its functions. Before beginning the fellowship, he served as the assistant features editor and news copy editor at Star News in Wilmington, N.C. Weir also has received editing and design awards from the North Carolina Press Association and the North Carolina Press Club. Weir graduated in 1999 from the Missouri School of Journalism.
"I heard about this product (EmPRINT) about a year or so ago, and this is the only place in the world that has an edition like this," said Weir. "The job is juggling lots of responsibilities. I have to make sure we get graphics, multimedia, ads, and that it all comes together."
Published six mornings a week and distributed throughout Columbia and the surrounding region, the Columbia Missourian is the working newspaper lab for students in news-editorial, design, information graphics and photojournalism. EmPRINT, which stands for Electronic Media Print, is an innovative, new digital publishing model that brings together the familiar qualities of printed newspapers with the interactive, multimedia features of the Web. EmPRINT editions are designed specifically for downloading and reading offline on contemporary computer screens.
The John S. and James L. Knight Foundation promotes excellence in journalism worldwide and invests in the vitality of 26 U.S. communities. Its signature work is its Journalism Initiatives Program. During the last 50 years, the foundation has approved nearly $250 million in journalism grants.
---
Rachel Kaatmann is a senior in the news-editorial sequence at the Missouri School of Journalism. She is minoring in political science and English and hopes to be a reporter and copyeditor for a daily paper in the Midwest or on the east coast after graduation. She received the Samuel W. Webb Jr. journalism scholarship and has been the clarinet section leader in Marching Mizzou the past three years. Kaatmann spent the summer reporting for the Public Life beat and copyediting at the Columbia Missourian and has had previous internship experiences as a reporter at the Suburban Journals of St. Charles County and as a legislative intern in the Missouri House of Representatives. She loves cats, especially her 20-pound grey and white cat Bosley.
Updated: April 7, 2020
Related Stories
Expand All
Collapse All
---