Barbara S. Cochran
Professor Emeritus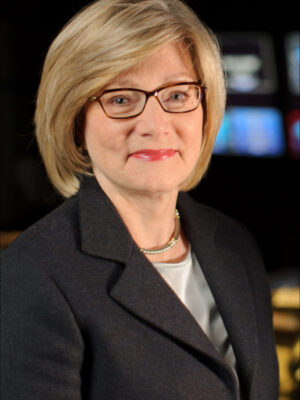 Download High-Resolution Photo
529 14th Street, N.W.
Suite 1240
Washington, D.C. 20045
BARBARA COCHRAN, a news executive whose career includes top jobs in the broadcast, print and non-profit worlds, is a professor at the School of Journalism.
Cochran is based in the School's bureau in Washington, D.C., where she has spent her entire career. She works with the School's faculty to teach and provide course content for students. Cochran also engages in programs of research, consulting and training aimed at improving the practice of journalism, working with the Committee of Concerned Journalists, also located in Washington, and the Donald W. Reynolds Journalism Institute.
Cochran served for 12 years as president of the Radio Television Digital News Association, the world's largest organization serving the electronic news profession. At RTDNA, Cochran championed the First Amendment rights of journalists, launched initiatives in ethics and diversity and led the association's inclusion of digital journalists in its membership. RTDNA received the Missouri Honor Medal for Distinguished Service in Journalism during her tenure.
Previously, Cochran served as managing editor of the Washington Star, vice president for news for National Public Radio, executive producer of NBC's Meet the Press and vice president and Washington bureau chief for CBS News. She has supervised coverage of stories from Watergate to the Persian Gulf War and played a leading role in the coverage of every election and political convention for 24 years. At NPR, she directed the creation of Morning Edition, the program that cemented NPR's position as an essential national news provider. During her tenure, NPR won two DuPont-Columbia Awards.
Cochran has been recognized with a number of awards, including The Media Institute's Freedom of Speech Award, The AWC Matrix Foundation's Edith Wortman First Amendment Award, the Library of American Broadcasting's Giants of Broadcasting Award and RTDNF's First Amendment Award.
Cochran has served as a judge for the DuPont-Columbia, George Foster Peabody and Hearst Collegiate Journalism Awards. She is a member of the Council on Foreign Relations and the Accrediting Council for Education in Journalism and Mass Communications. Cochran is co-chair of the International Women's Media Foundation.
Cochran has a master's degree from the Columbia University Graduate School of Journalism in New York and a bachelor's degree from Swarthmore College in Pennsylvania.
Updated: December 13, 2019