6 Missouri Journalism Graduate Students Attend White House Correspondents Dinner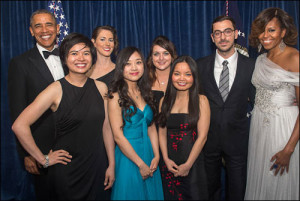 President and Mrs. Obama Recognize the Scholarship Winners
Washington, DC (May 8, 2014) — Six Missouri School of Journalism graduate students met, hugged and posed for photos with President and Mrs. Obama at the White House Correspondents Dinner held May 3 in Washington.
The annual dinner for journalists, government officials and invited guests may make headlines with Hollywood stars and political zingers, but its serious purpose is to honor the winners of its annual journalism and scholarship awards. The scholarships enabled the students to attend the School of Journalism's Washington Program for a full semester, where they worked for news organizations and attended seminars with movers and shakers in the nation's capital.
Students at the dinner were Anna Boiko-Weyrauch, Kevin Dubouis, Margaret Ng, Ninh Pham, Jamie Ries and Maoling Xiong.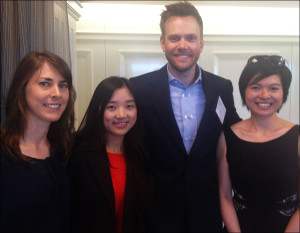 Scholarship winners from Missouri and other universities were invited to a special reception before the dinner to meet the Obamas and receive congratulations. During the dinner ceremonies, each student was announced and walked across the stage to shake hands with the President and receive a hug from Mrs. Obama to the applause of the 2,600 attendees.
At a luncheon held the previous day to honor the scholarship winners, the students met Joel McHale, host of "The Soup" on E! and star of NBC's "Community," who delivered a comedy speech at the dinner.
During their time in Washington, the students worked at NPR, Al Jazeera America, the Center for Public Integrity, the United Nations Alliance of Civilizations, CBS News and the International Women's Media Foundation. Barbara Cochran, the School's Curtis B. Hurley Chair in Public Affairs Journalism, directs the Washington Program.
Updated: July 24, 2020
Related Stories
Expand All
Collapse All
---