Master's Student Named Warren T. Brookes Journalism Fellow at Washington, D.C., Think Tank
Columbia, Mo. (Sept. 17, 2007) — Lene Johansen, a Missouri School of Journalism master's student from Norway, has been named the 2007-2008 Warren T. Brookes Journalism Fellow at the Competitive Enterprise Institute in Washington, D.C.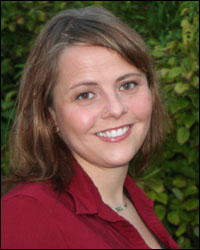 The Brookes Fellowship is named after the late newspaper columnist Warren T. Brookes of the Boston Herald and Detroit News. Brookes was known for questioning the conventional wisdom of experts in all fields and subjects. Through the program, Competitive Enterprise Institute identifies and trains talented young people and experienced journalists who wish to improve their knowledge of environmental issues and free market economics. In this manner, the program seeks to perpetuate Brookes' tradition of reporting from a sound scientific and economic perspective.
Johansen, who will begin the fellowship Oct. 1, plans to graduate in December. As a Brookes Fellow, she will continue to research and write a book on the human cost of plant biotechnology regulation, as well as work on contrarian feature stories on agricultural subsidies, global warming and Food and Drug Administration reforms.
Johansen is a founding partner of the Swedish think tank Eudoxa. She has been an active contributor to public policy debate in Norway on issues ranging from free speech to globalization. Her national reporting has been published by the St. Louis Business Journal, Columbia (Mo.) Business Times and the NPR Missouri network. Johansen was a finalist in the 2004-2005 Felix Morley Journalism Competition at the Institute for Humane Studies. The competition honors young writers whose work demonstrates and communicates an appreciation of classical liberal principles. Johansen holds a bachelor's degree in liberal arts from the University of Oslo, Norway, and she has worked for Oslo-based media.
Previous Brookes fellows, chosen for their contrarian thinking, have included John Berlau, BJ '94, author of the 2006 book Eco-Freaks; Ronald Bailey, science correspondent for Reason magazine; Hugo Gurdon, editor in chief of The Hill, a Capital Hill newspaper; and Timothy Carney, editor at Regnery Publishing.
The Competitive Enterprise Institute is a non-profit public policy organization dedicated to advancing the principles of free enterprise and limited government. Since its start in 1984, the institute has become an influential voice on entrepreneurship, environmental policy, technology policy and risk regulation.
Updated: April 20, 2020
Related Stories
Expand All
Collapse All
---