Washington Program Gives Students Experience Reporting From Nation's Capital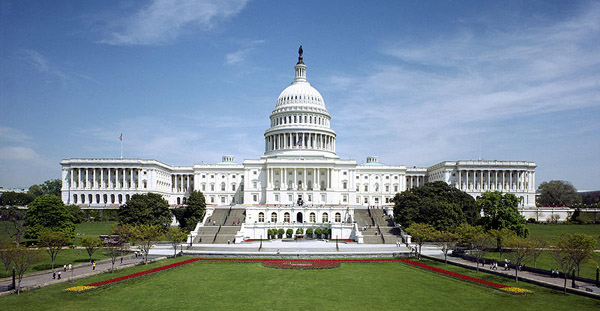 Columbia, Mo. (Sept. 22, 2003) — At 23 years old, Missouri School of Journalism student Matt Keeney is already producing television stories in the news capital of the world. And at 21, so is Christine Maddela. Both are students in the school's unique Washington Program. They are the first of a new era of Missouri students videotaping and reporting with state-of-the-art television news equipment recently installed at the school's bureau in the National Press Club Building.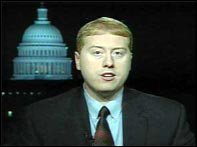 "We pride ourselves on real-world reporting experience. And now we have a chance to do that in one of the most challenging parts of the country." KOMU news director, Stacey Woelfel, said. "We compare with the best and this is why. The learning experience these students receive is very valuable."
The first "live from D.C." stories aired on Mid-Missouri's NBC-affiliate on Sept. 11. Maddela's story was about the controversy over the Pentagon memorial and Keeney's story was about how the Federal Emergency Management Agency's emergency funds have changed in the two years since the terrorist attacks. The students use a DVC Pro camera and a Media 100 nonlinear (video) editor provided by KOMU to videotape and edit their stories.
"We've been here about three weeks and have already worked alongside the major news networks and cable channels. I've interviewed lawmakers and government sources who the national media commonly call upon," Keeney said. "It's not only exciting, it's also an incredible experience. I'm getting experience now that would normally take me years to achieve." Keeney, a graduate student from St. Louis, is participating in the D.C. program as part of his master's degree.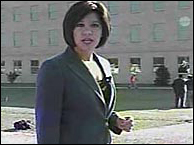 "I can't participate in something like this anywhere but Mizzou. The School of Journalism really believes in providing its students the best educational opportunities," Maddela said. "I feel that with this experience that I'll be very competitive when it comes time to look for a job." Maddela, from Denver, Colorado, is earning her undergraduate degree in broadcast news and is pursuing minors in Spanish and political science.
The Washington Program is open to graduate and undergraduate seniors from all of the school's areas of study. Participating students receive course credit while interning at media outlets, advertising and public relations agencies and corporations. Washington media and government officials give weekly seminars on pertinent topics.
Wes Pippert, director of the Washington Program, feels the broadcasts will benefit both KOMU and the students. "I think it's a huge advancement for students and for the school," he said.
The KOMU stories from Washington, D.C. can be viewed on the station's website. KOMU is the only university-owned commercial television station in the United States and uses its newsroom as a working lab for students. Recognized throughout the broadcast industry as the premiere training ground for television journalists, KOMU's newsroom creates a real-life lab experience for students attending the Missouri School of Journalism. While KOMU strives to bring the best education to its students, the news station also works to bring Mid-Missouri the best news coverage and has received numerous awards for its on-air news coverage.
Updated: March 9, 2020
Related Stories
Expand All
Collapse All
---