Missouri Journalism Alumni Criticize Obama Media Access and Urge Washington Reporters to Dig Deeper
Journalists and Former Officials Examine Media and Politics at 2014 Hurley Symposium
By John O'Connor, BJ '13, Master's Student
Photos by Alfredo Flores, BJ '01
Washington, D.C. (Sept. 30, 2014) — Washington journalists at a Missouri School of Journalism symposium gave the Obama administration poor marks for transparency, while former government officials said the relentless 24-hour news cycle has fostered fear of talking to reporters.
Six Missouri School of Journalism alumni discussed challenges to effective reporting on government and politics at the 2014 Curtis B. Hurley Symposium on Sept. 23 at the National Press Club in Washington. The Donald W. Reynolds Journalism Institute also sponsored the event.
The symposium, titled "Power Capital: Missouri Alumni Examine Media and Politics in Washington," was moderated by Barbara Cochran, the Curtis B. Hurley Chair in Public Affairs Reporting and Washington Program director.
The panel of Missouri graduates included former Rep. Martin Frost, BJ '64, now a partner at government affairs firm Polsinelli; Angela Greiling Keane, BJ '98, White House correspondent for Bloomberg News; Adora Andy Jenkins, BJ '03, former Department of Justice press secretary and now vice president of external affairs for the Information Technology Industry Council; Jeff Leen, MA '82, assistant managing editor of the Washington Post's investigations unit; Juana Summers, BJ '09 and an online master's student, congressional reporter for NPR; and Kurt Wimmer, BJ '82, media attorney at Covington & Burling.
Cochran asked the panel to grade journalists and government on how effective they are at getting information to citizens. The Post's Leen gave journalists a "C" and government an "F." He said that in the digital era, "I really believe that the government officials have become much smarter at playing the game." The panel agreed that it is more important than ever for the press to be critical, given public officials' ability to go around traditional media and communicate directly with voters.
"It is even more critical than I think it has been in the past for us to have an aggressive press that is out and investigating and speaking truth to power and interacting with these politicians," NPR's Summers said. "And making sure that we're fact-checking and being aggressive in the pursuit of what we do on a day-to-day basis."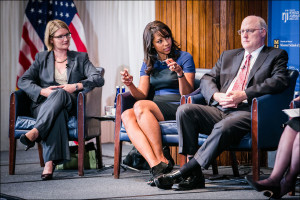 Bloomberg's Keane added that the current White House administration relies heavily on giving background or off-the-record information. "There's a real fear, I think, of being quoted from this administration, and it's a disservice to news consumers to not know who's talking, to not know who's giving out that information," Keane said. She also lamented the infrequency of President Obama's news conferences.
Jenkins, who led Atty. Gen. Eric Holder's press staff, explained that administration officials now are frightened by the speed of the current news cycle. They worry that information taken out of context could snowball out of control because of the influence of social media. "Much of our government is still operating – through no fault of leadership, but just the way government works – still operating in the 20th century when we have a 21st century news cycle," Jenkins said.
Wimmer, who represents media organizations such as CBS, Facebook and the Newspaper Association of America, countered that the Obama administration has created a culture of fear in the wake of its pursuit of information leakers, including former National Security Agency employee Edward Snowden.
Leen said that when the Post received a trove of top secret NSA files from Snowden, editors had a real concern not only about compromising national security, but also that the White House might go after its journalists if they chose to publish stories based on the files. He added that by also giving files to The Guardian, a British newspaper, Snowden set up a competition. "The story was going to come out by hook or by crook," Leen said. Ultimately, the White House didn't ask the Post to refrain from publishing.
Wimmer said while obstacles are large and the journalism industry itself has faced economic challenges, "There are some glimmers of hope. I think there was a really nice compromise on the shield bill in the early days of the Obama administration, but we've seen unbelievable barriers put up to journalism in the past two years."
Former Congressman Frost said he believes most members of Congress support a free press. However, he said, young journalists need to be ready to ask tough questions and dig deep because politicians' press releases circumvent the traditional media and become increasingly vague in the digital age. "I hope we are training a group of new, younger journalists who will really ask tough questions and not just kind of take what is handed to them," Frost said.
The panelists frequently noted the impact of the Internet on how journalists do their jobs and how the public receives information.
"It changed everything, and it changed nothing," Leen said. "It changed the way we engage with our audience, but it has not changed the shoe-leather art that is the fundamentals of journalism."
The Curtis B. Hurley Symposium was named after the country editor, former journalism student and mentor to E.A. McLaughlin, a University of Missouri graduate who endowed an estate gift in Hurley's name. Hurley encouraged McLaughlin to attend the Missouri School of Journalism and lent him $400 to do so in 1927.
Updated: July 30, 2020
Related Stories
Expand All
Collapse All
---