Journalism-Law Research Study Receives $49,000 Grant
Columbia, Mo. (March 11, 2004) — A joint journalism and law research study on domestic violence recently received a $49,000 grant from the Missouri Department of Public Safety to continue its work.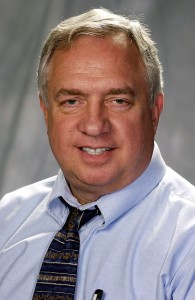 The original research study began in 2002 and looked at law enforcement responses to cases of domestic violence in Missouri. The study was initiated after the Family Violence Clinic at the University of Missouri-Columbia School of Law noticed discrepancies in how Missouri counties handled responses.
Mary Beck, a professor at the MU School of Law, and Kent Collins, broadcast news chair, focused their efforts in the pilot study on Cape Girardeau, Cooper, Boone and Callaway counties in Missouri. Beck and Collins have found that counties with highly organized protocol for addressing incidences of domestic violence and very involved prosecutors have a much higher rate of arrests, prosecutions and filing of civil orders.
"The study was born of Professor Beck's frustration with county prosecutors who seemed slow or reluctant or negligent in pursuing domestic violence cases," Collins said. "I smelled a news story-public officials lax in their duties."
Journalism and law students benefited from the collaborative research effort. Collins says that law students want every tiny detail in relation to an investigation, while journalism students want examples and the truth, are always in a rush, and have no problem being the bad guy in a situation. Beck agrees that such differences have provided more information for the study than if only one group was involved.
"This new study is a terrific opportunity to combine the values and ethics and strengths of the legal community and journalists to address a painful social issue," Collins said.
With the new grant, Beck and Collins will continue to use their students to gather more information, and will eventually create a statewide database to document cases of domestic violence. While the team originally studied quantitative information such as county population, square mileage, and number of law enforcement officers and prosecutors, now they will look for confounding factors such as income, unemployment, education, ethnic composition, city composition (rural versus urban), and the presence of an aggressive domestic violence response team.
"We want this to lead to an improved response to violence against women," Beck said.
The results of the expanded study will be presented in December 2004.
Updated: March 12, 2020
Related Stories
Expand All
Collapse All
---