Alumna Mary McNamara Earns Pulitzer Prize in the Criticism Category
Hands-on Reporting for the Columbia Missourian Launched Her Career, She Says
By Annie Rees
Columbia, Mo. (June 15, 2015) — An alumna of the Missouri School of Journalism has been awarded a 2015 Pulitzer Prize, the highest honor given for U.S. journalism.
Mary McNamara, BJ and BA '85, television critic for the Los Angeles Times, is the first television critic since 1988 to be honored with the Pulitzer in the criticism category. She was shortlisted for the same award in 2013 and 2014.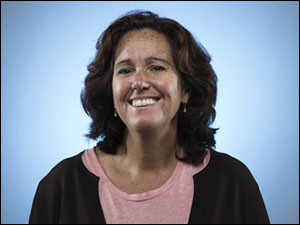 The citation reads: "Awarded to Mary McNamara of the Los Angeles Times for savvy criticism that uses shrewdness, humor and an insider's view to show how both subtle and seismic shifts in the cultural landscape affect television."
The Pulitzer judges reviewed 10 of McNamara's television columns from 2014, each of which shares an awareness for how the arts can provide a catalyst for conversations about social, cultural and political trends – good and bad – in our society. Some of the topics McNamara covered were Stephen Colbert's exit from Comedy Central, the death of Joan Rivers, diversity in television and the coverage of the Sochi 2014 Winter Olympics.
McNamara said that she didn't officially find out that she won the Pulitzer until the day the results were public. Her editor called her the Sunday before the Monday announcement, inviting her to the morning meeting. McNamara does not consistently attend that meeting, so his request seemed slightly suspect. She pressed him, and he reluctantly told her. McNamara remembers being excited but incredulous, asking "How good are your sources?"
Luckily, her editor's sources were sterling. The newsroom watched the official announcements together, popped champagne and had a celebratory lunch. That night, McNamara arrived home to a banner and flowers, and celebrated with her husband and three children.
McNamara said she feels humbled by the honor, given the many talented critics working at the LA Times and other newspapers all over the country.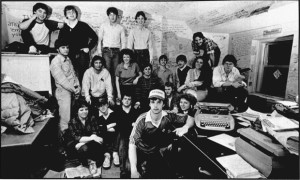 McNamara credits Editor Martin Miller for his stalwart support and encouragement in pushing McNamara to use television criticism as a lens through which to examine sensitive and large issues.
"People say, 'Oh, you take such big swings,' and the reason I take such big swings is because I have my editors behind me. I know they have my back," McNamara said.
In one of the Pulitzer columns, "Fresh Spate of Sexism, Violence Ominously Familiar," published on May 31, 2014, McNamara shows how pop-culture events in the previous year prompted heated debate in the public sector about sexism, violence against women and double standards between men and women. McNamara wrote: "To argue that entertainment does not impact culture is absurd. Hollywood doesn't get to take credit for breaking ground with films such as 'Philadelphia' and shows like 'Will & Grace' or for that matter 'Girls,' only to wash its hands of more destructive attitudes."
McNamara got the writing bug at a young age, and it stuck through high school, when she worked on the newspaper staff at Westminster High School in Maryland. The decision to pursue journalism as her college major was a no-brainer. McNamara writes in her online bio, "I drove halfway across the country in the middle of a heat wave to attend the University of Missouri (Go Tigers!) because it had the best journalism school in the country. (And yes, I was accepted at Columbia too. So there.)"
When students ask McNamara for journalism advice, her answer is always "Go to MU."
"It is the best journalism school in the country, and I stand by that," McNamara said. "I am a huge fan of the Missouri School of Journalism."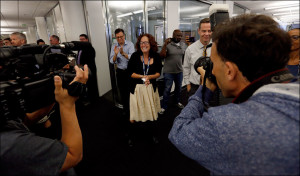 One of the many benefits of Missouri, McNamara said, is that the professional newsrooms are a proving ground for students and provide confidence – and clips. McNamara was a reporter at the Columbia Missourian and still considers it her first real job in journalism.
"Whether or not you have any idea what the hell you're doing, you get used to picking up the phone and calling people," she said. "You get to do all your practice stuff in the safety of college."
McNamara graduated with a dual major in journalism and women's studies, which paved the way for the job she got after graduation, working at Ms. Magazine. Next was a two-year stop at Whittle Communications in Knoxville, Tennessee, before moving to the Los Angeles Times to be a news editor. McNamara missed writing and after helming the site's Showtracking blog, was offered a position as a television critic.
"The pre-eminent storytelling is being done on television," McNamara said. "You're seeing people experimenting with everything."
McNamara said that television criticism is in some ways about answering the basic question: Is this worth your time or not? A larger pattern of criticism that has to do with holding the industry accountable and tracking important trends in television and culture.
"A lot of the pieces in the [Pulitzer] packet were about the needed diversity in television," McNamara said. "If television is supposed to be a mirror for society, then it needs to be a mirror for society."
McNamara also has written two novels, "Oscar Season" and "The Starlet."
A selection of her work will be published in a forthcoming anthology of literary journalism by Missouri School of Journalism alumni. Associate Professor Emerita Mary Kay Blakely is the editor.
"The stories we tell ourselves about ourselves are incredibly important to pay attention to," McNamara said. "They reveal our fears and values and hopes."
Updated: September 8, 2020
Related Stories
Expand All
Collapse All
---