Science, Environmental Journalism Group to Host National Geographic Speaker
Craig Welch Will Speak on the Impact of Climate Change on the World's Oceans
Compiled by Ashley Szatala
Columbia, Mo. (April 18, 2016) — Pulitzer Prize-winning reporter and National Geographic staff writer Craig Welch will visit the University of Missouri on April 27 to present on "Sea Change," his award-winning multimedia project for the Seattle Times about the impact of climate change on the world's oceans.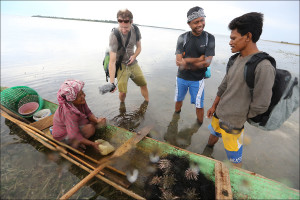 His presentation will be at 7 p.m. in Fisher Auditorium. The student group Science, Health and Environmental Journalism @ Mizzou is sponsoring his visit. Sara Shipley Hiles, an assistant professor at the Missouri School of Journalism, serves as the organization's adviser.
For "Sea Change," Welch and photographer Steve Ringman crisscrossed the ocean from the Arctic to the Northwest to the South Pacific to show how marine life and people are affected by ocean acidification. The project received support from the Pulitzer Center. Today, Welch continues to write about climate change and other environmental issues for National Geographic.
As a journalist for two decades, Welch's work has appeared in Smithsonian magazine, the Washington Post and Newsweek. He has won numerous awards for his work, including a Pulitzer for coverage of the Oso landslides in Washington; the Online Communication Award from the National Academy of Sciences, National Academy of Engineering, and Institute of Medicine; the Overseas Press Club Whitman Bassow Award; and an Emmy Nomination for New Approaches to News and Documentary Programming.
Welch has been a fellow at the Nieman Foundation for Journalism at Harvard University and is the author of "Shell Games: A True Story of Cops, Con Men, and the Smuggling of America's Strangest Wildlife," a nonfiction detective story about wildlife thieves.
Updated: September 24, 2020
Related Stories
Expand All
Collapse All
---