Junior Awarded Nationally-Competitive $30,000 Harry S. Truman Scholarship
Science and Agricultural Journalism Student Maria Kalaitzandonakes Plans to Pursue a Career in Public Service
Columbia, Mo. (April 26, 2016) — University of Missouri junior Maria Kalaitzandonakes has been awarded the Harry S. Truman Scholarship, a nationally-competitive award that supports students dedicated to public service. Selections for the Truman Scholarship are chosen on the basis of their academic success and leadership accomplishments, as well as their likelihood of becoming public service leaders.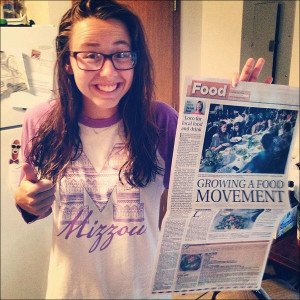 "I could hardly believe I was selected a Truman Scholar," Kalaitzandonakes said. "Being selected is so emotionally overwhelming because it shows me how many people back me and my goals in food security. Also, the national selection committee, Mizzou and CAFNR [MU's College of Agriculture, Food and Natural Resources] believe in me."
Kalaitzandonakes is a double major in agricultural economics with an emphasis in public policy as well as science and agricultural journalism. With the Truman Scholarship, she plans to pursue a master's degree in public policy. Kalaitzandonakes hopes to work for the United States Department of Agriculture's Foreign Agricultural Service.
"The actual application process for the scholarship was difficult, but amazing," she said. "It required so much time and thought and really grappling with the questions of what I wanted to do and how I want to make the world a better place."
Kalaitzandonakes' primary interests lie in food security. She has served as president of the International Association of Students in Agricultural and Related Sciences, where she created resources, led panels on hunger dialogue and networked nationally. In 2015 Kalaitzandonakes represented MU a conference addressing global food security issues at the University of Guelph in Ontario and in February, she assisted the MU Deaton Institute for University Leadership in International Development in hosting the Universities Fighting World Hunger 2016 Summit here.
Kalaitzandonakes has also had a long history of involvement with the English as a Second Language Department at Rock Bridge High School, a role she began as a high school sophomore there. She works hands on with students to teach them about food security and language.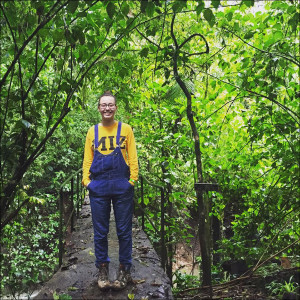 Kalaitzandonakes helps plan and execute an annual program that helps educate regulators from around the world on agricultural technologies, Biotechnology Regulation Immersion Course. The course has graduated regulators from over 40 countries.
Additionally, she works as an assistant researcher at the Economics and Management of Agrobiotechnology Center looking at science media bias in the U.S. She has served as the community outreach chair of Agricultural Communications and Leaders of Tomorrow, been a volunteer and CAFNR Partner for the Food Bank for Northeast and Central Missouri and was selected as a Jerry Litton Scholar.
She has written for numerous publications including MU SciXchange where she told the stories of researchers on campus and in La Selva Biological Research Center in Costa Rica. She was also a food-writing intern for the Columbia Daily Tribune and was a general writer at the Columbia Missourian.
Since 1987, MU has been home to 17 Truman Scholars including 2015 recipient Emily Waggoner. MU also has had numerous finalists with 2016 finalists Kalaitzandonakes and Kate Hargis being the latest to join that list.
The Truman Scholarship Foundation was established by Congress in 1975 and awards scholarships for college students to attend graduate school in preparation for careers in government or elsewhere in public service. This year, there were 775 candidates for the award nominated by 305 colleges and universities, a record number of applications and institutions. The 200 finalists for the award were interviewed in March and early April at one of 16 regional selection panels. Fifty-four new Truman Scholars were selected in 2016 and will receive their awards in a ceremony at the Harry S. Truman Presidential Library and Museum on May 29.
Recipients of the Truman Scholarship receive a $30,000 scholarship toward graduate school and the opportunity to participate in professional development programming to help prepare them for careers in public service leadership.
Updated: September 24, 2020
Related Stories
Expand All
Collapse All
---