Journalism Students Load Up on Science; Now the Reporting Begins
By Steve Veile
Project Manager, Biotech University
Columbia, Mo. (Oct. 2, 2009) — A dedicated group of Missouri School of Journalism students toughed out a weekend filled with the science, business and political implications of biotechnology as the first step in a reporting competition. The carrot? An all-expense paid blogging trip to Europe next year.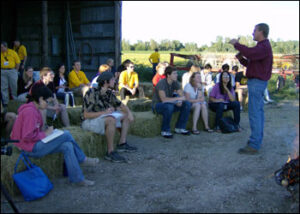 The weekend workshop, titled Biotech University, was designed to introduce students to the emerging science of biotechnology. It was sponsored and funded by the United Soybean Board (USB) and co-sponsored by the Missouri School of Journalism and the National Center for Soybean Biotechnology. Biotech University was held Sept. 25-26 at the Bond Life Sciences Center on the University of Missouri campus. Experts on biotechnology explained what it is, gave hands-on demonstrations of how it is done, and focused on the scientific, business and political issues surrounding biotechnology.
Students who attended each session of the workshop are now eligible to enter a reporting contest. News articles, feature stories, and video, audio, and multimedia pieces are among the items students can submit for review and scoring by a panel of independent judges. The top three entries will win prizes and/or scholarships for the student journalists. The grand prize is an all-expense paid blogging trip to an international biotechnology conference in Rome or Paris. Second- and third-place winners will receive scholarships of $2,000 and $1,000, respectively.
Student journalists heard from a wide array of speakers at Biotech University, including Chuck Myers, chairman of the board of USB, and Suzette Heiman, a journalism school professor, both of whom provided welcoming remarks to the assembled students.
Kelly Forck, president of the Missouri Soybean Association, who farms about 500 acres near Jefferson City, provided background and color on biotechnology from the farmer's perspective. Students travelled by bus to the Forck farm located just west of the capital city in an area called Cole Junction Bottoms.
Rich Missouri River bottom land and farmer ingenuity make for a winning combination in Forck's agricultural showcase. Students surveyed acre after acre of corn and soybean crops, all ready for harvest. Forck's presentation on soybean farming and how he employs biotechnology elicited a wide range of questions from the student journalists. The ambience of haybale seating, bonfire and weiner roast, plus the opportunity to climb into Forck's massive farm equipment helped make this a memorable "classroom" experience.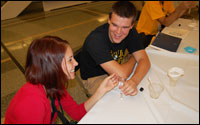 After the trip to the field, students learned about the science of biotechnology and then proceeded to extract DNA from a banana. Paul Anderson, of the Danforth Plant Science Center in St. Louis, and Shari Freyermuth, assistant professor of biochemistry at MU, led the students from theory to application in this hands-on biotechnology exercise.
Professional journalists were also featured on the Biotech University agenda. Bill Allen, assistant professor of science journalism at MU, and Bill Lambrecht, Washington, D.C., bureau chief of the St. Louis Post-Dispatch and author of Dinner at the New Gene Café and Big Muddy Blues, approached biotechnology from a reporter's point of view. Both encouraged the student journalists to embrace the science with a healthy skepticism. Allen reminded students of the principles embraced in the Society of Professional Journalists' code of ethics and encouraged them to seek the truth and provide a fair account of issues. Lambrecht urged students to "read, read, read," and "write, write, write."
Manu Bhandari, a graduate student, won the major attendance prize of the weekend, a Wii sports system. Door prizes for the event were provided by Monsanto Company.
The Biotech University program was funded by the United Soybean Board, which is composed of 68 farmer-directors who oversee investments of the soybean checkoff, a research and promotion program funded by U.S. soybean farmers.
Updated: May 6, 2020
Related Stories
Expand All
Collapse All
---