Student Journalists Don Lab Coats to Learn Intricacies of Scientific Experiments
A Better Understanding of the Research Process Might Result in Better News Stories About Scientific Findings
Columbia, Mo. (June 2, 2014) — For six students at the Missouri School of Journalism, working in a science lab felt about as foreign as landing on Mars. Instead, writing, editing and staying up-to-date with current events were their everyday activities.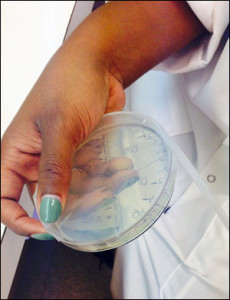 But when the opportunity arose to live the life of an actual scientist – to work in a lab and conduct research at the Christopher S. Bond Life Sciences Center on the University of Missouri campus, the students – Nate Anton, Elizabeth Brown, Shannon Freese, Margaret Konz, Robert Langellier and Madeline O'Leary – jumped at the opportunity.
The experience was all part of a National Science Foundation-sponsored activity to facilitate the dissemination of science and increase public awareness about research and technology. The overall goal was to discover if news stories about scientific findings could be better if journalists better understood how these results were discovered. David Mendoza-Cozatl, assistant professor in plant sciences in the MU College of Agriculture, Food and Natural Resources, and Jonathan Stemmle, assistant professor of strategic communication and co-director of the MU Health Communication Research Center, designed the experiment.
During the spring 2014 semester, the students participated in a research project in the Mendoza laboratory. They worked with key personnel to conduct several experiments and experienced the full scientific process by discussing their results with other scientists.
After the experiments, the students identified stories to tell about the research. They then communicated the complex findings to the public, who may have little-to-no knowledge of the project or the scientific process.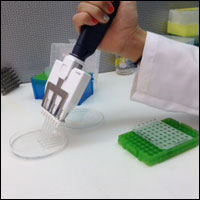 Beyond testing the limits of journalists and the patience of scientists, this practicum is also valuable in keeping the public well informed about the work their tax dollars are funding. MU spent $236.4 million dollars on research during fiscal year 2013 alone. As a whole, the state's flagship university accounts for an average 70 percent of all research dollars granted to public universities in Missouri.
"We allow our journalism students to get their hands dirty doing experiments in the lab instead of just reporting on it," Stemmle said. "When these students graduate, they'll have a better understanding of how research works in the sciences and how scientists think. That should make them better journalists in the real world."
The Mendoza lab is using molecular approaches to identify proteins that facilitate the uptake and accumulation of essential heavy metals – iron, zinc, copper and manganese – and also toxic elements such as cadmium and arsenic into plants.
Mendoza said the research is important because plants and humans need essential heavy metals to grow and because plants are the main source of these metals. Plants, however, may also accumulate cadmium and arsenic, which are toxic to plants, humans and livestock. An understanding of how plants accumulate essential and toxic elements, Mendoza said, could help to select crop varieties that accumulate more nutritious metals but not toxic elements such as cadmium or arsenic.
"The training of scientists and journalists needs to complement each other," said Mendoza. "Scientists are not trained to be effective communicators, and journalists rarely have the opportunity to experience the scientific process. This experiment helps scientists think beyond their work in lab to the larger impact of it for the community."
The six students were split up into two groups to write stories about their findings. Freese, Langellier and Anton utilized a blog featuring photographs and videos on Storify, a site that allows users to package social media content in one place. O'Leary, Brown and Konz documented their experiment on Tumblr and Instagram, a blogging and photo social media site, respectively. These platforms were chosen in order to experiment with new techniques for scientific storytelling. (Video: Journalism Students Gain Insight Into the Scientific Method.)
Reporting on an unfamiliar and complex subject proved to be more difficult than the students expected.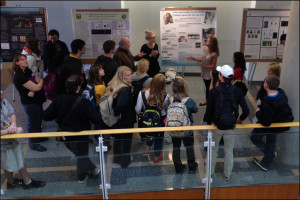 "The vocabulary is complicated," said O'Leary, a journalism and economics dual major who plans a career as a business-agriculture writer. "The process can be followed by anyone, if they've got the right instruction. But deeply understanding the implications of the steps is much more difficult."
Brown felt the active involvement in the experiment challenged her abilities and will make her a well-rounded journalist. She now feels comfortable writing on difficult subjects regardless of prior knowledge.
"Doing the research yourself gives you much more insight and knowledge, and helps you write a better story," she said.
At the end of the experiment, the students presented a poster during MU Life Sciences Week, an annual event at the Bond Life Sciences Center where students from nine MU colleges and schools present their current research. There were more than 300 posters presented during the 2014 event.
Margaret Konz, one of the student-scientists in this story, contributed to this article. She is studying strategic communication.
Updated: July 27, 2020
Related Stories
Expand All
Collapse All
---