Students Immerse Themselves in Science Journalism at National Conference
The American Association for the Advancement of Science Meeting Is One of the World's Largest Scientific Meetings
Chicago (April 22, 2014) — A shortage of transplant organs. The mysteries of hyena scent. Perilous times for polar bears.
These are just a few of the topics that four Missouri School of Journalism students explored at the American Association for the Advancement of Science conference Feb. 13-17 in Chicago. Assistant Professor Sara Shipley Hiles led the field trip as part of her Science, Health and Environmental Writing class.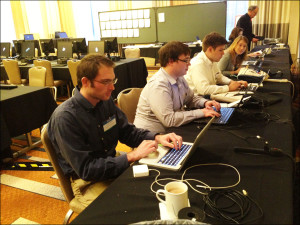 Students got a crash course in science – and science writing – as they picked from more than 150 sessions spread over several days. Working side-by-side with professional science writers from media outlets around the world, the students attended scientific panels, press briefings and speeches and then wrote stories on deadline for the class blog, Unearthed Magazine.
The trip was funded by a grant from the Carnegie Corporation for the Missouri School of Journalism's "Telling Stories of Science" program, which aims to expand the School's traditional leadership in graduate-level science, health and agricultural journalism education.
The AAAS meeting, billed as one of the biggest scientific conferences in the world, provided a rich environment for science writers in training. Watching professional journalists at work was an education in itself.
Caleb O'Brien, a master's student from Columbia, Mo., studying magazine writing, liked watching science reporting being done in real time.
"I particularly enjoyed attending a press conference or symposium and then, a few hours later, watching stories on the session's topic blossom on websites around the world," he said.
The students quickly-learned tricks of the trade: budgeting their time wisely, scanning the copious Twitter feed and buttonholing speakers after their talks.
Jack Suntrup, a print and digital news student from St. Louis, said sessions on fisheries and oil sands gave him sources and insights he can use for later reporting.
"It was nice to get a chance to learn more about projects going on nationally like fishery revitalization and the Keystone XL pipeline," he said. "I also enjoyed the lunch discussions on how to best communicate complicated scientific jargon."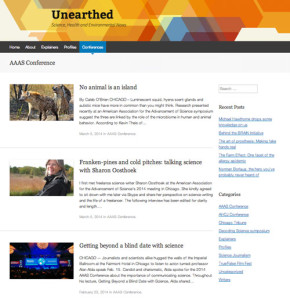 Christine Coester, a master's student from Fayetteville, Ark., who is designing her own course of studies, felt inspired after being surrounded by scientists dedicated to their research and journalists dedicated to their craft.
"The conference was oozing energy, knowledge, passion and success," she said. "I became a sponge and absorbed as much as I could."
Coester said the conference strengthened her resolve to pursue a career in science, health and environmental writing.
O'Brien returned home from the conference and, prompted by a session on solitary confinement, filed a public records request seeking information from the Missouri Department of Corrections on the use of solitary confinement in state prisons. The resulting story will be published on the class website.
O'Brien said that attending AAAS was "a terrific opportunity" and "a highlight of my journalism studies to date."
Master's student Arthur Cook Bremer also was impressed with the challenge and importance of science writing.
Hiles, herself a former environment reporter for newspapers and magazines, enjoyed watching the students dive into science coverage. She knew the trip was a success when she arrived in the AAAS newsroom one afternoon to see all four students lined up at their computers, writing the day's stories.
"To learn by doing – there's no better way," she said.
Updated: July 24, 2020
Related Stories
Expand All
Collapse All
---