First Smith/Patterson Science Journalism Fellow Selected
Contact: Jon Stemmle
Phone: (573) 882-6225
E-mail: stemmlej@missouri.edu
Columbia, Mo. (May 19, 2008) — "The world of journalism is in a state of flux and so is the health of the world."
The words that Paula Hunt used to open her application letter for the Smith/Patterson Science Journalism Fellow position resonated with the search committee, and they knew that she was their successful candidate. The veteran health reporter from the San Antonio (Texas) News Express will become the first Smith/Patterson Fellow this fall when she begins her master's program in convergence journalism at the Missouri School of Journalism.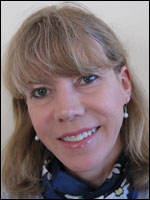 "It's an honor for me to accept the first Smith/Patterson Fellowship. I'm looking forward to working with and learning from the team at the Missouri School of Journalism's Health Communication Research Center," said Hunt, who will be the fellow for the 2008-09 academic year. "Good journalism and good health can both be measured by how individuals and communities benefit from them."
Hunt has written for numerous publications including Fitness, Healthy Living, The New York Times, Sports Illustrated and Oxygen.com. She is an award-winning reporter, having earned recognition from the Texas Associated Press Managing Editors group and the Press Club of Dallas. Hunt also has an extensive resume in video production, working on films and television shows as well as producing videos for Sears and Nordstrom. She has a Bachelor of Fine Arts degree in film and television production from New York University in New York City.
The annual fellowship and accompanying lecture series were made possible through a $100,000 gift from Russell G. Smith II and Gail Smith in honor of former MU Professor Joye Patterson, who was Russell Smith's mentor throughout college. Patterson, who lives in Columbia, taught science writing at the journalism school from 1966 to 1988.
Smith was raised in St. Louis and has been active in the Joplin business community for the past 36 years. Smith earned two degrees from MU: a Bachelor of Journalism degree in 1967 and a Master of Arts degree in 1971 with a focus in science writing and public relations. He is the managing partner of MYRUSH Futures, LP, a Midwest investment property and consulting firm. Previously, he was Missouri division president of May's Drug Stores Inc., based in Tulsa, Okla. Smith and his wife, Gail, who received a Bachelor of Arts degree in education from MU in 1968, live in Joplin; Naples, Fla.; and Telluride, Colo.
"Paula's writing background and current interest in health sciences clearly underscores the essence of what we're trying to accomplish with the Smith/Patterson Fellowship," Smith said. "We wanted someone who could take their communications skills to a higher level by combining graduate study with access to the University's wealth of scientific and medical researchers. Hopefully she'll work to break down and retranslate their technological jargon into an exciting vision of discovery and hope for future generations of readers and viewers."
Hunt will primarily work with the Health Communication Research Center's (HCRC) staff and faculty on health-related grant projects funded by agencies such as the National Cancer Institute, National Institutes of Health and Missouri Foundation for Health.
"This is an exciting opportunity for HCRC to add a new dimension by partnering with science journalism students," said Glen T. Cameron, HCRC co-director and scientific adviser. "We hope to provide Paula with an immeasurable experience by working on the strategic communication aspects of our health-related grants."
Hunt will also help organize the Smith/Patterson Lecture Series, beginning with the fall lecture titled "Informing Smart Health Decisions: The Roles of Source and Reporter." The discussion will be held in conjunction with the Sept. 10-12 event that will commemorate the School's centennial and the dedication of the new Donald W. Reynolds Journalism Institute.
"Work on the lecture series, of course, will not only add another dimension to her activities, but also will provide a way to introduce fellow journalists, researchers, students and faculty to the myriad of ongoing issues in the scientific, research and health communities," Smith said.
The Smith/Patterson Fellowship is an annual award given to a student enrolled in the master's program. Applications for the 2009-2010 Fellow position will be available from HCRC in early 2009.
About the HCRC
The Health Communication Research Center operates under the auspices of the Missouri School of Journalism. The HCRC's primary mission is to foster research to improve communication between the health care community and the public. The Center capitalizes on the University of Missouri's strengths in health care outreach, education and prevention and provides support to researchers conducting pilot studies and developing proposals for further extramural funding.
Updated: April 27, 2020
Related Stories
Expand All
Collapse All
---