New Smith/Patterson Fellow to Focus Her Health and Science Journalism on Poverty Issues in India, China and Africa
Columbia, Mo. (May 17, 2011) — Shraddha Sankhe of Mumbai, India, will bring her global experience in health and science journalism to the Missouri School of Journalism as she begins her Smith/Patterson Fellowship for the 2011-12 year. She is the first international student to receive this honor.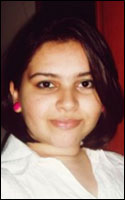 Sankhe's most recent work was as editor at Youth Ki Awaaz, an online platform for young people in India to express themselves on issues of importance. Youth Ki Awaaz won a prestigious World Summit Youth Award from the International Center for New Media and the United Nations Global Alliance for ICT and Development for best practices in online journalism during her tenure there.
Through her work at Youth Ki Awaaz and an internship at CNN-IBN, Sankhe investigated stories ranging from rape to breast cancer to climate change.
"My interest lies in rural areas of India, China and the countries in Africa where poverty is still present at large," Sankhe said in her application letter. "Especially in India, issues like natural water resources such as rivers and lakes being contaminated with chemicals and industrial waste/large scale food adulteration are causes of certain cancers have not been addressed, cared for or checked. I want to be one of those journalists who review the effects of the technology, health and sanitation on the economy while analyzing the effects of demand pull and push of businesses."
The annual Fellowship, and accompanying Lecture Series, was made possible through a $100,000 gift from Russell G. Smith II and his wife, Gail, in honor of former University of Missouri Professor Joye Patterson, who was Smith's mentor throughout college. Patterson, who lives in Columbia, taught science writing at the journalism school from 1966 to 1988.
"I want to be one of those journalists who review the effects of the technology, health and sanitation on the economy while analyzing the effects of demand pull and push of businesses."
Smith was raised in St. Louis and has been active in the Joplin business community for the past 36 years. Smith earned two degrees from MU: a bachelor of journalism degree in 1967 and a master of arts degree in 1971 with a focus in science writing and public relations. He is the managing partner of MYRUSH Futures, LP, a Midwest investment property and consulting firm. Previously, he was Missouri division president of May's Drug Stores Inc., based in Tulsa, Okla. Smith and his wife, Gail, who received a bachelor of arts degree in education from MU in 1968, live in Joplin; Naples, Fla.; and Telluride, Colo.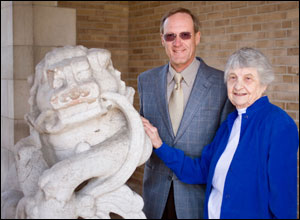 "Each year we hope to find a student who honors the spirit of this Fellowship. In Shraddha, I believe we have found that person," said Jon Stemmle, assistant director of the Health Communication Research Center. "Shraddha's interest in both science and health and background in new and social media and broadcast is also a perfect fit for the direction in which the HCRC is heading."
Sankhe will work directly under the mentorship of Stemmle and HCRC Director Glen Cameron on health- and science-related grant projects funded by agencies such as National Cancer Institute, Missouri Foundation for Health and Howard Hughes Medical Institute.
The Smith/Patterson Fellowship is an annual award given to an incoming or currently enrolled student in the master's program at the Missouri School of Journalism.
About the HCRC: The Health Communication Research Center operates under the auspices of the Missouri School of Journalism. The HCRC's primary mission is to foster research to improve communication between the health care community and the public. The Center capitalizes on the University of Missouri's strengths in health care outreach, education and prevention and provides support to researchers conducting pilot studies and developing proposals for further extramural funding. For more information visit our website at: http://hcrc.missouri.edu/.
Updated: June 2, 2020
Related Stories
Expand All
Collapse All
---