Missouri Journalism Researcher Helps in Former Communist Countries
Collaborations Help Countries Develop Research Methods and Journalism Education
By Katherine Kostiuk
MU News Bureau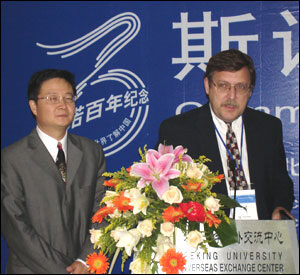 Columbia, Mo. (March 1, 2007) — As part of the Soviet bloc, the countries in Eastern Europe did not place high priority on opinion polling, a common research method in the United States. Now, as many of these countries develop open and democratic societies, there is an increasing need to know how to conduct public opinion surveys. A researcher at the Missouri School of Journalism has worked in Albania and plans to work in Poland and Slovakia this year to assist news organizations and universities in developing research methods that could improve understanding of public opinion related to politics, the media and more.
"In the past, there wasn't a focus on public opinion surveys in these countries," said Professor Wayne Wanta. "Today, there's a lack of knowledge of research methods that most of us in the United States take for granted. This is my opportunity to reach out around the world to help these countries as they develop."
Wanta worked with a news media organization in Albania in October 2005. The organization's members wanted to conduct public opinion polls to include in their news reports but didn't know the proper way to do so. Wanta helped them develop a method for randomly generating phone numbers for their surveys and gave them advice on how to phrase questions.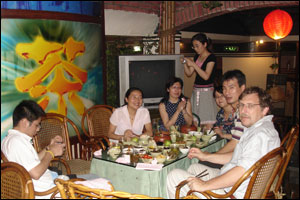 Later this year, he plans to work with universities in Poland and Slovakia. In Poland, he will work on a collaborative effort with the University of Wroclaw's Department of Social Communication and Journalism. There faculty have been doing research in political communication for several years, including studies that deal with international news coverage in Poland. Wanta said he hopes to work with these researchers to study the effects of mass media, one of his main areas of research. In Slovakia, Wanta will visit Comenius University in Bratislava, which has a department of journalism that includes three sections, theory and history of journalism, newspapers and press agencies, and television and radio broadcast. The department offers classes in mass communication psychology and methodologies.
"Improving the process of public opinion surveys is important because it has implications in many fields, from political science to news," Wanta said. "There are many issues in these countries that would be interesting to study from a public opinion standpoint."
The Missouri School of Journalism has a partnership program with the Independent Journalism Center (IJC) and Moldova State University in the former Soviet country of Moldova. MU professors and graduate students have worked with the Moldova-based IJC and Moldova State University to develop a core curriculum for a graduate program in journalism, prepare Moldovan faculty to teach in the graduate journalism program and develop an associated business plan to ensure the program's sustainability. In addition, MU has partnered with Moscow State University (MGU) in Russia, one of the world's largest journalism schools. This program aims to strengthen journalism education in Russia and the United States.
Working with international universities also is an emphasis of the Association for Education in Journalism and Mass Communication (AEJMC), of which Wanta is president. He also is executive director of the Center for the Digital Globe. Both positions have led to invitations to speak at other universities; last year, Wanta spoke at conferences in Malaysia, Taiwan and Germany and taught a course on mass communication theories in China.
Updated: April 16, 2020
Related Stories
Expand All
Collapse All
---