Hilton executive meets with Missouri School of Journalism students to share his journey to a data-driven career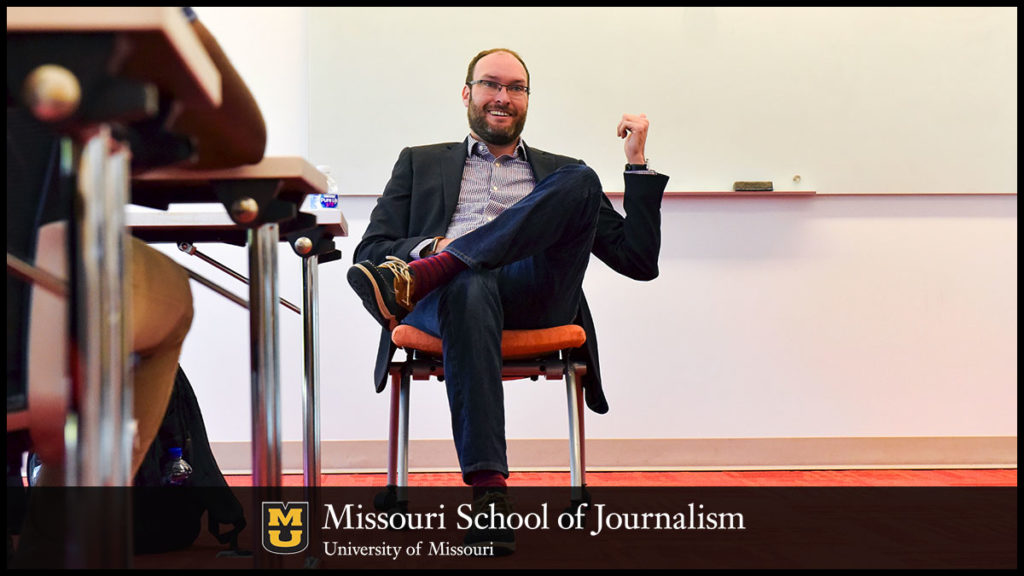 Jess Petitt, vice president of analytics at Hilton, encouraged strategic communication students to follow their passion, even if it takes them down a non-traditional path.
Columbia, Mo. (Dec. 11, 2019) — He's cleaned rooms as a housekeeper, checked guests in at the front desk and now uses data to drive decisions for one of the world's top hotel brands. Through it all, Jess Petitt, vice president of analytics at Hilton, says the key to his room at the top has been a passion for hospitality.
"I'm a jack of all trades," Petitt said while speaking with strategic communication students about the evolution of his career. "I've done a lot of different roles in the industry, and I'm fluent enough to be dangerous in all aspects of what we do."
Petitt, a second-generation hotelier and son of J-School alumna Kathy Petitt, BJ '69, leads a first-of-its-kind department responsible for all revenue, sales, marketing, channel, customer and development analytics across Hilton. In short, Petitt is somewhat of a translator.
"My particular skillset is being able to articulate and give context about what's happening in our business environment to the analytics teams, and help them use that to problem-solve and vice versa."
While hospitality is still at the heart of Hilton's mission, Petitt says they've made analytics a strategic priority in order to become savvier against competitors that are disrupting the industry.
"We were a service company. It was really about people serving people, and it has to remain people serving people. But we turned into one that can hopefully be a little smarter and more efficient in how we do that."
He added other legacy industries, like journalism, are also switching gears to become more business and data-focused. Petitt says the ultimate goal in driving insights into information is to empower people to discover the things they truly want, thus creating a mutually beneficial relationship between a customer and a business.
"Analytics, at its best, is merging together your wants as a customer and also turning it into a positive buying behavior for the business."
Petitt's ultimate career advice to students? Find your passion, and follow it. And if that passion happens to be data and analytics, follow his lead and take the road less traveled.
"If you want to be entrepreneurial about it, don't go to the place where there's 100 data scientists or advanced analytics people. Go to the place where there's one person you can learn from. Somewhere you can make a difference in the organization."
Updated: December 11, 2019
Related Stories