Columbia Missourian Is Recognized for Excellence in Legal Journalism
By Joan Niesen
Master's Student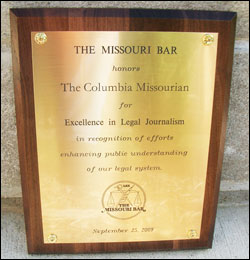 Columbia (Sept. 29, 2009) — The Columbia Missourian was recognized on Friday with The Missouri Bar Excellence in Legal Journalism award.
"This award is a special one for students and staff because it recognizes our 'watchdog' journalism and signals to our students the importance and value of this kind of work in the community," said public safety editor Katherine Reed, who oversaw the student work that was honored by The Bar.
The Missourian was one of five winners in the category and shared honors with Kathy Sweeney of KFVS-TV in Cape Girardeau, Mark Morris of the Kansas City Star, Paul Pepper and James Mouser of Pepper and Friends, and Bob Watson of the Jefferson City News Tribune. Missourian reporters Tram Whitehurst and Alicia Swartz, both of whom write for the public safety beat, accepted the award on behalf of the Missourian.
The Missourian serves as the working newspaper lab for students in print and digital news, design, information graphics and photojournalism.
"The Missourian is being recognized for its longstanding coverage of the plight of Missouri's underfunded and overworked public defenders," Gary Toohey, the director of communications for The Missouri Bar, said. "The newspaper has regularly published articles that have drawn attention to other legal issues deserving of public attention," Toohey added.
The awards, which are given annually to both organizations and individual reporters, recognize those within journalism who work to foster public understanding of the legal system. Winners are selected through a process in which a panel of judges on The Missouri Bar's Media Law Committee recommend winners. The Missouri Bar's Executive Committee then makes the final decision about award recipients.
Award winners were recognized at The Missouri Bar/Missouri Judicial Conference 2009 Annual Meeting in St. Louis on Fri., Sept. 25.
Updated: May 6, 2020
Related Stories
Expand All
Collapse All
---