Missouri Journalism Students Document Lives and Dreams of Millennial Generation – Ages 16 to 35 – in the State
"The American Next" Now Available as an Ebook Download or Online
Columbia, Mo. (July 11, 2012) — A group of Missouri School of Journalism students documented the hopes, fears and expectations of the next generation in a just-published series called "The American Next." The stories can now be downloaded as a 131-page ebook or viewed online on the Columbia Missourian website.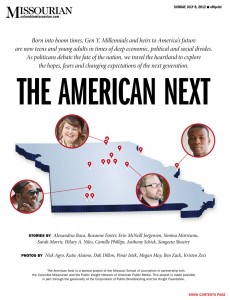 The spring 2012 semester reporting project was inspired by a professional partnership with the Public Insight Network of American Public Media that focused on crowd sourcing, a tool that allows community members to voluntarily submit background information and sign up to be potential sources for journalists. A key goal of the Public Insight Network is to foster a deeper relationship between journalists and the public. The American Next was made possible in part through the generosity of the Corporation for Public Broadcasting and the Knight Foundation.
A team of journalism students traveled across the state from February through May and interviewed more than 100 young Missourians who were asked to share their dreams, those shaped by their childhoods and those that they are now forging for themselves. The students brought an array of skills and talents to the project: writing, editing, design, photography and radio-television for a variety of news media platforms.
"Our goal was not to gather opinions, but rather to provide a tapestry of life as it is really lived by young Americans," said Jacqui Banaszynski, a Pulitzer Prize-winning reporter who is now the School's Knight Chair in Editing. "Our hope is that those lives, set against the current political rhetoric, can shed light on how public policy does, or doesn't, serve the next generation."
The contents include:
In-depth Profiles
"In Their Own Words" essays in which 10 young adults share their lives and future goals
Three interactive infographics that highlight the state's demographic, socio-economic, education and related features.
Brief biographical information about each member of the team
See Related Story: Professional Partnerships Enhance a Missouri Journalism Education
Updated: August 15, 2019
Related Stories