Research Abilities Develop Practical Career Skills
Columbia, Mo. (Oct. 30, 2006) — When Roseann Moring, from San Diego, Calif., and Matt Velker, from St. Louis, Mo., enrolled at the Missouri School of Journalism, it wasn't because they were thinking about research. Moring was more intent on getting hands-on training through real-world media outlets such as the Columbia Missourian or Vox magazine, and Velker was focused on working for the convergence journalism media outlets – the Missourian, KOMU and KBIA. When research did cross their minds, it was often in the context of a classroom exercise, and they were skeptical of its usefulness in the working world.
That is, until they were exposed to job postings in the areas where they wanted to work after graduation.
"The ideal candidate will be…collecting information, interviewing individuals and writing stories for print and online."
"Candidates must understand how to investigate stories and cover news with depth and value…"
"We're looking for account executives who can…develop creative, proactive strategies for promotion."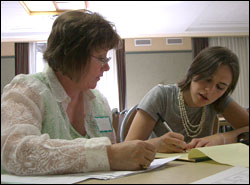 What Moring and Velker soon realized is that the everyday, practical skills they had been learning at the Missouri School of Journalism – from interviewing sources to investigating stories to developing creative strategies – are all aspects of research, no matter their name. Research, at its most basic level, requires studying a topic closely and presenting it in a clear and accurate manner. Research is one of the critical skills that Missouri Journalism students are taught through coursework, and they take those skills to the newspapers, television stations and advertising agencies that employ them.
"Research skills are an important part of the Missouri Method," said Brian S. Brooks, associate dean for undergraduate studies and administration. "We teach students to be doers and thinkers. Even though most graduates won't end up in research careers, the research experience develops critical thinking skills essential to any career."
Many students are now taking these research skills to a deeper level by participating in academic research. This type of research requires a much more analytical look at a topic, often requiring the formation of a hypothesis or research question based on previous research and published scholarly articles. For example, a student journalist might analyze and report on voting patterns for a Missourian story about an upcoming election; a student involved in academic research, however, would formulate a question based on those voting patterns and answer that question using surveys, content analysis, physical observations or interviews.
Many students discover that they really enjoy the research process, and there are numerous opportunities to team up with the School's renowned research professors on real-world projects. Several undergraduate research programs exist to facilitate projects in addition to regular classroom experiences. For example, strategic communication majors are required to take Strategic Communication Research I, where they learn how to conduct and use research on consumer attitudes, marketplace trends and other topics. The "capstone" course that all journalism seniors take often involves research methods like surveys and interviews. In addition to classwork, professors often recruit student help with outside projects. Associate Professor Cynthia Frisby used a team of students to help research and design an advertising campaign for Wilson's Total Fitness in Columbia that ran on television and in print media throughout the city.
Established programs, such as the MU Undergraduate Research Scholars Program (MUURS) and the Honors College Discovery Fellowship Program, give students scholarships and support to conduct research with the aid of a professor. Moring and Velker, both Discovery Fellows, are working with professors Lee Wilkins and Stephanie Craft, respectively, on real-world issues such as the decline of investigative reporters and changes in religion coverage.
Students also can apply for the eResearch Fellowship Program to conduct electronic research with a faculty mentor. The research opportunities are virtually endless for students who have the initiative to work with their professors. Seniors Katie Roehrick and Rebecca Norris learned that all one needs to do is ask.
Undergraduate Research All-Stars
Roehrick, from Blue Springs, Mo., and Norris, from Lakewood, Ohio, found their passion for research almost by chance. As members of the Ad Club, both heard a presentation about the PRIME Lab given by the Club's mentor, Assistant Professor Paul Bolls. They became interested in the projects conducted there and asked whether they could observe the activities. Observing turned into working in the lab, which turned into conducting real research there.
The PRIME Lab is a relatively new project at the School run by Bolls, Associate Professor Glenn Leshner and Assistant Professor Kevin Wise. In simplified terms, the lab helps researchers determine people's reactions to media such as commercials and Web sites by measuring the body's physical reaction to the content. They measure participants' heart rates, sweaty palms and facial movements as they view commercials or navigate Web sites to find out if participants are having positive or negative reactions.
Before long, both students began developing their own research projects to test in the lab. Roehrick found the lab's opportunities fascinating. She developed an interest in political advertising during her junior year in high school, when she interned at the U.S. Congress in Washington, D.C. With Bolls' help years later, she was writing a proposal to research the effectiveness of political advertisements in the PRIME Lab.
She submitted the project proposal to the MU Undergraduate Research Scholars Program (MUURS), where she won a competitive scholarship and stipend to conduct the research. She spent the summer of 2005 using the PRIME Lab equipment to test how political candidates' attack and non-attack advertisements affect people's attention and memory. Her research, which found that viewers paid more attention to and better remembered slow-paced political ads that did not attack another candidate, turned out to be groundbreaking in the field.
As a result, Roehrick was chosen to present her paper, "Take It Nice and Slow: The Effect of Political Advertising Strategy and Production Pacing on Attention and Memory," at the 2006 International Communications Association (ICA) annual conference in Dresden, Germany. She was listed as the first author on the paper for doing the majority of the work and writing. That is an extremely rare designation for an undergraduate, as was the paper presentation.
"For an undergraduate to be first author on a paper is a gigantic achievement," said Bolls, an ICA member. "There is no student division at these conferences. The competition is made up of graduate students, professors and industry professionals."
For Roehrick, presenting at the conference was the experience of a lifetime. "The conference was amazing. It was a wonderful opportunity to hear new research, find new material that relates to my project, and a chance to see researchers interacting with each other outside of the lab setting," Roehrick said.
While Roehrick conducted her research, Norris began to increase her involvement with the lab. She underwent training on the lab's equipment and computer systems and became certified to conduct research by the Institutional Research Board. Last year she collaborated with Assistant Professor Kevin Wise and two graduate students on an Internet surfing study that also was presented at the 2006 ICA convention. Like Roehrick the year before, Norris has secured an MUURS scholarship for the fall 2006 semester. Working with Bolls, Norris will be researching prescription drug commercials, specifically the pace and emotional tone of health risk and benefits information, to determine which features lead to the highest recognition among viewers.
"I'm really looking forward to doing my own study with [Bolls] this year," Norris said. "I'm hoping the study will identify which approach best leads to viewers remembering the health risk information."
Research Skills for Life
Although both Roehrick and Norris are planning to go on to graduate school to further their research interests, the research skills taught at Missouri are essential for all students heading to media outlets after graduation. Most alumni will never have their work showcased in conferences or academic journals, but they will have it on display in newspaper articles, magazine spreads, television packages and advertising campaigns across the globe. Those results are just as important and require many of the same skills.
Just ask Jeff Neu, BJ '02, who is a senior account executive at the public relations firm Weber Shandwick in St. Louis. While working on major campaigns for companies like Energizer and Rubbermaid, Neu uses the analyzing and synthesizing skills he learned as a news-editorial major.
"Even though I'm now in public relations, I still have to fact-check my sources, summarize large amounts of information and create the hook that will get people interested in my products," Neu said. "These are all critical thinking skills that my experiences at Missouri taught me."
Kia Breaux, BJ '96, knows the importance of a Missouri journalism education as a student and employer. Now the assistant chief of The Associated Press bureau for Kansas and Missouri, Breaux has recruited Missouri students and alumni.
"My experience in interviewing and working with Missouri graduates is very positive. I've found them all to have advanced research-related and critical thinking skills," Breaux said. "Most importantly, Missouri journalism grads are armed with the necessary computer-assisted reporting skills they need to be good journalists. They know what resources to use and where to find them in researching and writing strong news stories."
Breaux cites the School's real-world media outlets, in addition to classroom training, as tools that help students develop basic critical thinking skills.
"In particular, the practical experience Missouri students get by working in the Columbia Missourian newsroom is invaluable. The students are put into real-world situations that challenge them to analyze complex issues and situations. These skills, abilities and knowledge go a long way when these students enter the workforce. It's cliché, but they are really able to hit the ground running," Breaux said.
Joe Grimm, the recruiting and development editor for the Detroit (Mich.) Free Press, has been recruiting at Missouri for 12 years. He said the caliber of people Missouri attracts, combined with the quality of its programs, produces graduates that often exceed his expectations.
"The Missouri program is demanding, so its students are used to doing in-depth reporting. Being home to Investigative Reporters and Editors (IRE) and the National Institute for Computer-Assisted Reporting (NICAR), Missouri has all the tools students need to go steps beyond basic journalism."
Getting Involved
Finding real-world or academic research opportunities is easy for students who have the initiative to improve their skills. To find out about getting involved in research or extracurricular collaborations, prospective or current students can simply ask their professors for recommendations.
For now, Moring and Velker are continuing to learn practical research skills in the classroom and in their Discovery Fellows projects. But in just a few years, they will join the ranks of thousands of other successful Missouri School of Journalism alumni using research skills in newsrooms, agencies and companies around the world.
Updated: April 13, 2020
Related Stories
Expand All
Collapse All
---