Alumni, Experts Help Students Prepare for Life After Graduation
'What If I Can' Event Focused on the Transition from College to Career
By Alexa Pace and Katrina Molholm
Columbia, Mo. (April 6, 2015) — Personal financial planning, employer health benefits and salary negotiation were among the topics discussed at a recent event geared toward preparing soon-to-be graduates for life after college.
"What If I Can," sponsored by the Missouri School of Journalism's Career Services office, offered nine hours of instruction that focused on the transition from college to career.
University of Missouri alumni Kirby Cole, BS '01, FleishmanHillard, St. Louis; Christopher Ave, BA '86, St. Louis-Post Dispatch; and Allie Helz, BJ '13, Walz Tetrick Advertising, Kansas City, hosted an interactive discussion based on questions submitted by the approximately 50 juniors and seniors in attendance.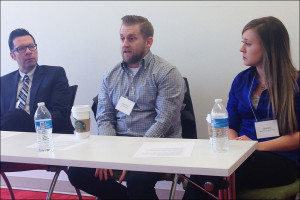 The MU alumni also shared their professional experiences with students. Among the topics discussed were how to approach superiors as an entry-level employee, the necessary mindset for beginning a job and how to set oneself apart from a crowd.
Megan Reinkemeyer, a representative from MU's Office for Financial Success, focused her remarks on managing money after college. This included planning for fixed and flexible expenses, saving goals and emergency funds. Additionally, students received resources for managing their credit scores, along with detailed information on why and how to build credit. The necessity of paying back student loans was an important aspect of Reikemeyer's presentation.
Barbara Willis, the assistant director of the School's Career Services office, co-presented on wage negotiation and benefits with Lauren Bauer, a representative from the Office for Financial Success. Students learned about the various health, life and disability benefits in addition to retirement plans. Additionally, Willis said that job seekers could negotiate almost anything with an employer: pay, benefits or even the time they come to work. Students also learned about appropriately negotiation-timing with an employer and about salary comparisons based on geographical location and job title.
Willis hopes to offer more events like this in the future.
"We are always looking for ways to meet the career preparation needs of the students," Willis said. "I am always keeping an ear open to trends in the questions I get from students, so hopefully we can provide the right people and resources to students through events and presentations."
Updated: August 4, 2020
Related Stories
Expand All
Collapse All
---