Missouri-Moscow State Faculty Collaborate to Offer New Convergence Course
By Janelle Walker
Columbia, Mo. (Feb. 27, 2006) — Seven Missouri School of Journalism faculty are working with 13 Moscow State University faculty in Russia this semester to teach a media convergence journalism course modeled on the School's new sequence in this area.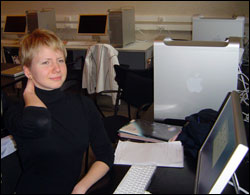 "This program is a curriculum project. By involving members of both faculties, we're not only teaching convergence journalism to students at MGU, but also we're providing faculties from both institutions an excellent collaborative educational opportunity," said Fritz Cropp, Missouri's international programs director.
The new course being offered to 50 MGU students brings together American and Russian teachers who specialize in different aspects of journalism, including photography, radio, television and print reporting, graphic design and Web publishing.
"The relationship with MGU gives us an opportunity to expose American and Russian faculty and students to new ways of storytelling that fit with the digital world of laptops, cell phones and other portable media players," said Mike McKean, chair of Missouri's media convergence faculty and a leader of the MGU/MU initiative.
In the first three years of the program, called "Bringing the Missouri Method to Moscow State," nine MGU professors have spent one semester each at Missouri, and three Missouri faculty members have spent one semester each at MGU. Short-term visits also solidified relationships between the two faculties. The purchase of computer equipment at MGU to establish a multimedia convergence lab similar to the one already in place at Missouri set the stage for the course now being taught at MGU.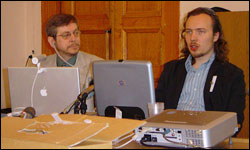 The partnership was first announced in February 2003. It pairs the world's first school of Journalism (Missouri) with the world's largest school of journalism (MGU) on a project to strengthen journalism education in Russia and the United States. Both Missouri and MGU are widely regarded as premiere journalism schools. They are part of major public universities, offer a full range of journalism degrees and emphasize research as well as professional training.
Missouri Journalism faculty have worked for more than a decade in Eastern Europe. The School has formal collaborative relationships with more than a dozen educational programs in nine countries and informal relationships with more than a dozen others. The MGU journalism school enrolls more than 3,000 students and 100 faculty.
The partnership grant is funded through the U.S. Department of State Bureau of Cultural and Educational Affairs.
---
Janelle Walker, of Fowler, Ill., is studying broadcast news at the Missouri School of Journalism. She reports for KOMU and has assisted Columbia-area United Way agencies with their promotional efforts. Walker will intern this summer with Anthem Publishing/KC Magazine in the audience development area. After graduation in December 2006, she will pursue a career in public relations.
Updated: April 8, 2020
Related Stories
Expand All
Collapse All
---