Global Missouri Journalism to Host Study Abroad Fair Sept. 21
Columbia, Mo. (Sept. 18, 2007) — The Missouri School of Journalism will reinforce its reputation as a world-renowned institution at the School's first study abroad fair Friday, Sept. 21, hosted by Global Missouri Journalism, the School's study abroad office.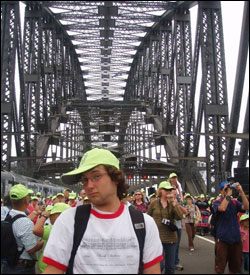 From 10 a.m. to 2 p.m. in the Neff Hall student lounge, Missouri Journalism students will be on hand to promote the School's study abroad and exchange opportunities offered through the International Programs office. Former study abroad students, advisers and exchange students will answer questions from those interested in studying abroad. The student-organized fair will feature free food, plus a drawing for $500 that may be used toward one of the School's 18 study abroad programs.
Abby Hayes, a senior strategic communication major from St. Louis, spent the winter 2007 semester in Paris with seven other students from Mizzou. She said the fair should help to inform students about the benefits of studying abroad.
"I thought this might be my only opportunity to travel the world, so I took advantage of it," she said. "In my opinion, this is the best time for any young person to travel."
The advisers in the International Programs office work to tailor each study abroad package to the specific needs of journalism undergraduates.
"We have a great variety of programs as far as the number of different locations you can choose from and the length of study, as well as what they have to offer in terms of internships and course work," said Paulina Perkins, study abroad coordinator for International Programs.
Global Missouri Journalism offers programs during the fall, winter and summer semesters, as well as the popular European Study Tour offered during the January intersession. Students can choose among programs in 15 countries, from England and France to Australia and China. Since January, 143 journalism students have studied abroad.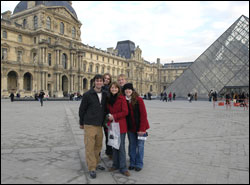 Students and advisers agree that practical work experience is one of the strongest aspects of the exchange programs. Internships are arranged through host universities in each country, and they meet the requirements for each journalism emphasis area.
Alex Monnig, a senior magazine journalism major from St. Louis, said he learned a great deal from his internship at DMAG, a premier Australian kids' magazine in Sydney.
"I gained a much better understanding of the magazine industry and what goes into creating an annual publication," he said. "Tramping the entire city to follow up on stories, you really learn the lifestyle of a true journalist."
The fair is open to all Missouri School of Journalism students.
Updated: April 20, 2020
Related Stories
Expand All
Collapse All
---