Missouri School of Journalism students head overseas for the summer for internships and adventure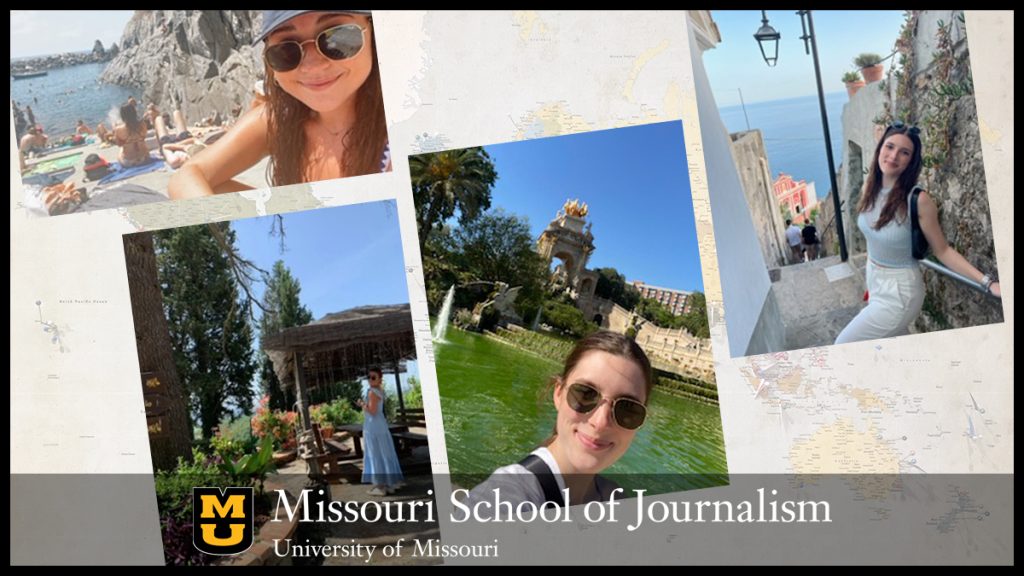 Background photo: Andrew Stutesman | Unsplash
After two summers plagued with COVID-19 and travel restrictions, students packed their bags and renewed their passports to participate in the School's Global Program's offerings.
By Lexi Symonds
Nearly half of all University of Missouri journalism students study away. The School's Global Program offers a wide variety of options to choose from, allowing students to earn college credit while gaining valuable work experience on another continent This summer, several journalism students who are focusing their studies on strategic communication are taking advantage of opportunities in Prague, Barcelona, London and Florence, Italy.
Eleven strategic communication students are participating in the School's short-term, five-week program in Prague, the capital of the Czech Republic. Students are working for McCann-Erickson, an international agency, and will complete a two-week culture course to learn about the Czech Republic. The program is overseen by Sandy Kornberg, BJ '64, who also aids in the preparation process. McCann Prague also takes in a team of students from Charles University in Prague to collaborate with the Mizzou students on a real ad campaign.
"I am genuinely so excited to experience a different culture and learn the ins and outs of a major agency like McCann," said junior Adriana Montano, a student participating in the Prague program. "I am also pumped to get to know the students in my program better and eat some yummy, hearty Czech food and try out the local beers."
On the western side of Europe, students are bringing their talents to Barcelona to expand their cultural, bilingual and educational knowledge for a two-month summer session. In this program, students are provided with an internship that aligns with their interests. Junior SaraBelle Scott is working for the Donation Transplantation International Institute as a communications and marketing intern, helping to run the company's website, social media and communications.
"I am excited for the experience of working in a foreign country and being able to put my minor in Spanish to use," said Scott. "My goals are to travel a lot within Europe, eat new and different cuisines, and make new experiences with friends while working."
Another path journalism school students can take is an exchange program at University of Westminster in London. Students are able to take credit hours that fulfill requirements for their specialty area strategic communication classes or general credits in a unique setting. Junior Lucas Dorrell is completing a fine arts course and instead of just learning about art history in a traditional Mizzou classroom setting, he'll be taking a 'Modern Art in London' class. This course is designed to get exchange students out in the city, exploring museums and historic pieces of architecture.
"I think London is the perfect place for me to go because it's a hub for people, cultures, foods and sports of all different backgrounds," said Dorell. "Though it's definitely a little nerve wracking to know I'll be in a foreign place without my friends and family, I think that will force me to get outside my comfort zone and interact with people I never would have met otherwise."
"We feel one of the most important experiences a student can have is leaving the United States," said study abroad coordinator Andrew Dumas. "Studying abroad forces students to confront biases and preconceptions, and allows them to interact with and learn from a number of other cultures they may never have interacted with before. By leaving the country and looking back, our students have the opportunity to identify what America does well — and what we don't do well. It doesn't matter whether you go abroad for an internship or a cultural immersion, your life will still change."
Although many students go through the journalism school for their study abroad experience, some have found independent internship opportunities on their own. Junior Sophia Tumminia is in Florence, Italy for eight weeks working for BravoScanto — a marketing affiliate program that specializes in online retail across central Europe and America. She will be living with around 50 other interns that are also working for marketing companies in the Tuscany region.
"It's always been a dream of mine to go abroad and getting to do it with my childhood best friend is something that I'm so happy that I get to do," said Tumminia. "Getting this internship has been one of my proudest accomplishments and I am so excited to form connections and make memories with people from all over the world."
Updated: June 9, 2022
Related Stories
Expand All
Collapse All
---