The 'Global Journalist' Radio Program Celebrates Its 10th Anniversary with the Premiere of New Interactive and Video Features
By Angela Hamilton
Master's Student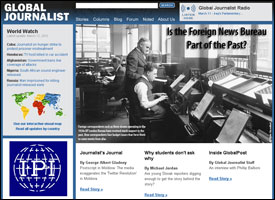 Columbia, Mo. (March 16, 2010) — "Global Journalist," a half-hour weekly radio discussion of international news by a panel of journalists from throughout the world, recently celebrated its 10th anniversary with a special review of the program's first decade as well as the premiere of a new video version and longer interactive format called "Global Journalist Live."
Moderated by Stuart H. Loory, the Lee Hills Chair in Free Press Studies, and produced by Missouri School of Journalism graduate students, "Global Journalist," which airs on KBIA 91.3 FM, is the station's most-downloaded program for podcast.
As part of the 10th anniversary show, Loory interviewed graduate students who worked as producers of the program. All are now working in a journalistic capacity all over the world. They included:
Bu Zhong, MA '00, assistant professor of journalism, Pennsylvania State University.
Tianbo Huang, MA '02, vice president, global business development, KyLin TV, New York.
Yusuf Kalyango, MA '04, assistant professor of journalism, Ohio University.
Euntaek Hong, MA '05, director of media services, Naver.com, Seoul, South Korea.
Gaurav Ghose, MA '04, financial features editor, Gulf News, Dubai, UAE.
Renata Johnson, BJ '02, MA '06, program assistant, Brazil Institute, Woodrow Wilson International Center for Scholars, Washington, D.C.
Abraham Mahshie, MA '06, freelance journalist and director of Americas Journalism Training in Buenos Aires, Washington, D.C.
María Inés Miró-Quesada of Lima, MA '06, general manager, Nueva Via Comunicaciones, Lima, Peru.
John Amick, MA '07, Web producer, Washington Post, Washington, D.C.
Yue Li, MA '08, commodities reporter, Dow Jones Newswires Asia-Pacific, Shanghai, China.
The Global Journalist radio program grew out of the magazine by the same name, the first issue of which was published at the School in 1998. Loory felt it was important to establish a radio program that somewhat mirrored the magazine; that is, running news stories unedited and uncensored.
Diverse topics have been discussed, from politics and climate control to economics and natural disasters. Examples include international spying, relations between Palestine and Israel, freedom of the press in Eastern Europe, the impact of rising food prices around the world and the global financial crisis.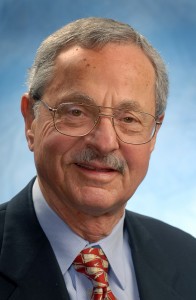 "I like to think that every one of the stories is interesting," Loory says. "We try to get away from the ordinary, day-to-day spot news. We also try to stay a little bit soft on some things because my feeling is, people don't want to hear only hard international news."
Loory credits the student producers who work to book guest reporters and research the pieces for each week's show for the program's success. "It could not be done without them," he said.
Current producers are Missouri journalism graduate students Youn-Joo Park, Angela Potrykus, Tim Wall, Megan Wiegand and Melissa Ulbricht.
Other individuals whose contributions to the program have been vital include Pat Smith, managing editor of Global Journalist magazine, and Pat Kelley, who transcribes discussions from the radio program, making it easier for the producers to obtain excerpts.
Updated: May 7, 2020
Related Stories
Expand All
Collapse All
---