'Global Journalist,' 'Post' win national Telly Awards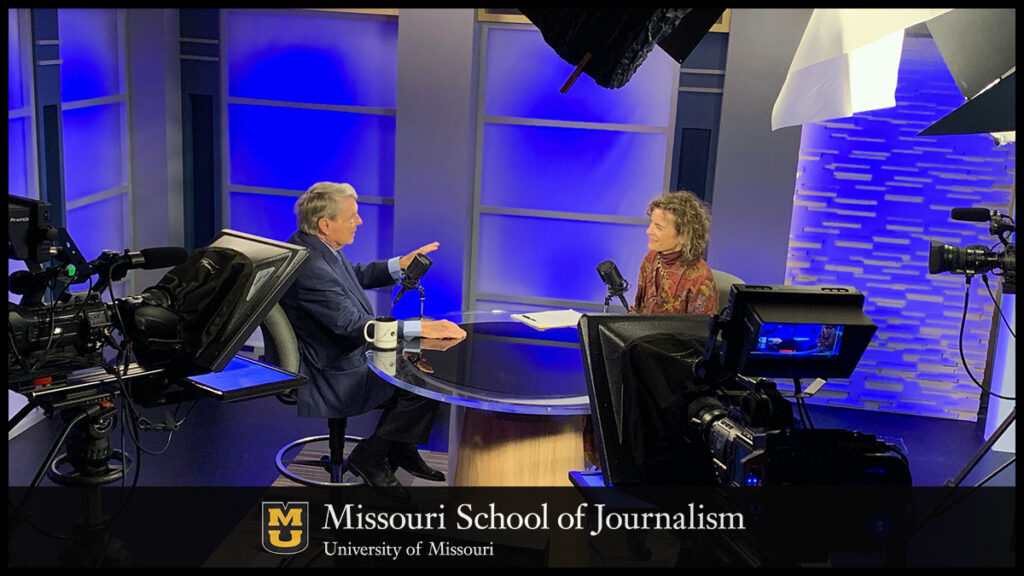 Passing of the Torch: The late PBS anchor and Missouri J-School alumni Jim Lehrer, BJ '56 – at left, with Professor Kathy Kiely – was interviewed by convergence journalism senior Benjamin Brink in an episode of "Global Journalist" that recently won a 2020 Telly Award.
Columbia, Mo. (May 29, 2020) — Two programs produced at the Missouri School of Journalism – "Global Journalist" and Investigative TV's "Post" – won awards at the 41st annual Telly Awards, bringing national recognition to students, alumni, faculty and staff. All wins were in the Online Division.
"Global Journalist," one of the J-School's six cross-platform newsrooms, won a Bronze Award in the News/News Feature category for "A Conversation with Jim Lehrer." Convergence journalism senior Benjamin Brink of St. Louis was the fill-in host of the episode, which was executive produced by Professor Kathy Kiely, Lee Hills Chair in Free Press Studies, and  directed by Travis McMillen, senior media producer at the School's Reynolds Journalism Institute..
"This award is especially meaningful to all of us at the Missouri School of Journalism because it was for an episode that featured what is likely the last lengthy interview by one of our most distinguished alumni, the late PBS anchor Jim Lehrer," said Kiely. "As we watched one of our bright, soon-to-be J-School graduates anchor a show about a much-lauded 85-year-old alum, I think we all had a sense of a torch being passed." Lehrer graduated from the J-School with a bachelor's degree in 1956.
Brink, who plans to graduate in December 2020, was an associate producer and visual editor for "Global Journalist." "Hosting this show was the first – and only – time I have sat in front of a camera," he recalled. "[It] was the culmination of a semester's worth of hard work, perseverance and encouragement from faculty."
It was all hands on deck for this special edition of "Global Journalist."
"I think at one point, four professors were in the control room, mother-henning the process," said Kiely. "One operated the teleprompter for Ben, and another barged into the studio at one point to adjust his tie."
What Kiely didn't mention was Brink arrived late for the production. "I had been burning the midnight oil as an editor for underclassmen in the convergence program," he said. "As a result, I overslept. After apologizing profusely, the Global Journalist and convergence faculty straightened me out. Figuratively and literally, the late Mark Hinojosa straightened my tie." Added Brink: "As a journalist, there is no such thing as being fashionably late."
Global Journalist is a converged newsroom producing digital, broadcast and mobile content for local and global audiences. It covers international news with a focus on parts of the world rarely covered in mainstream media. Global Journalist is produced at the School's Reynolds Journalism Institute by faculty, staff and students from the School in conjunction with the School's NPR affiliated station KBIA-91.3, Mid-Missouri Public Radio.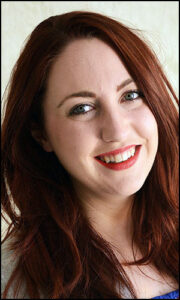 'Post' wins Silver and Bronze awards
"Post" is hosted by Jamie Grey, BJ '07, ME '17, and produced by J-School capstone students. The Gray Television media review program won Silver in the Information category for "Investigative Sports Reporting" and Bronze in the Talk Show/Interview category for "Investigative Documentaries." The episodes were produced by Jake Cookson, BJ '19, and Joseph Ward, BJ '19, respectively. Both shows were directed by McMillen.
"As a student in the Missouri School of Journalism, there is no greater opportunity than working alongside some of the most brilliant minds in storytelling," said Cookson, now digital media manager for WPTZ in South Burlington, Vermont. "Jamie, Travis and the rest of the team behind 'Post' showcase that brilliance in everything they do and it makes me proud to see their hard work noted in the form of a Telly Award."
"Post" streams on InvestigateTV, Gray Television's channel dedicated to in-depth and watchdog reporting. It is presented in partnership with the journalism organization Investigative Reporters and Editors. The monthly program is taped at the Reynolds Journalism Institute, a partner of InvestigateTV.
Updated: November 12, 2020
Related Stories
Expand All
Collapse All
---