Production studio at Reynolds Journalism Institute offers students hands-on training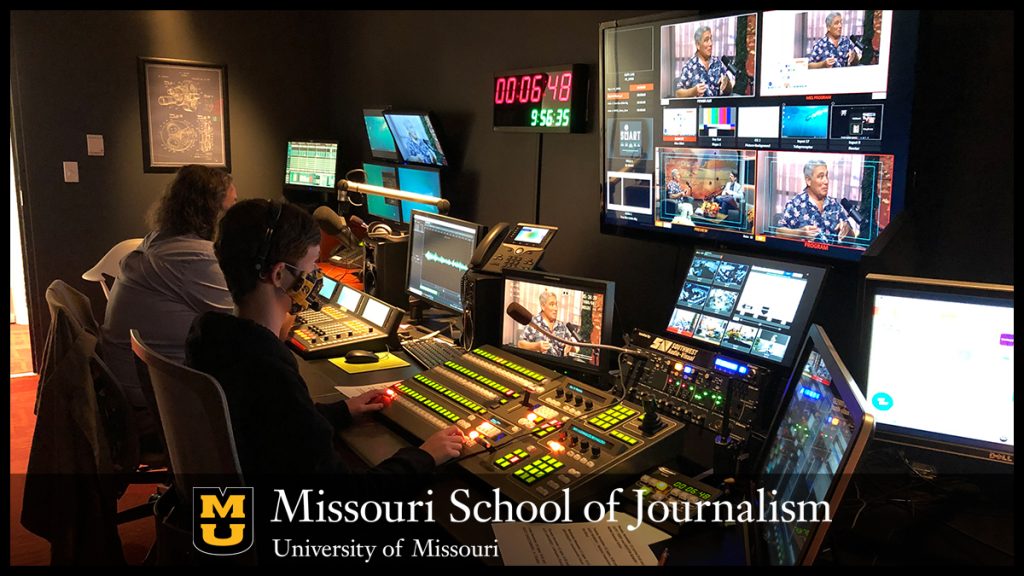 Jared Rubenstein serves as both director and technical director (alongside audio engineer Aaron Hay) during a recording of an episode of Radio Friends with Paul Pepper. Photo: Travis McMillen
The production studio at the Reynolds Journalism Institute is just one of the opportunities that lies off the beaten track for journalism students
Columbia, Mo. (Feb. 10, 2022) — At the Missouri School of Journalism, students have the opportunity to work in a number of professional media outlets as part of their education, including the School's print, digital, television, and radio publications that collaborate within the One Newsroom. But the real-world education opportunities — known at the School as the Missouri Method — don't end there.
Travis McMillen, senior media producer for the School of Journalism and the Reynolds Journalism Institute (RJI), knows this well. He's taken a number of students under his wing over the years to help produce, edit, and direct productions like "Views of the News" and "Radio Friends with Paul Pepper."
Students like freshman Jared Rubenstein relish this opportunity to gain early work experience. Rubenstein happened across the production studio in RJI on a tour of the campus last winter, and as soon as he saw McMillen at work — using equipment he was familiar with from producing a school announcement show at his high school in Georgia — he knew Mizzou was the place for him.
"We stayed in touch after the tour, and once I started my first semester, Travis invited me to come in and check out Radio Friends with Paul Pepper every other Tuesday," Rubenstein said. "I mainly operated the cameras in the studio at first, and eventually I asked Travis if I could try directing."
Rubenstein, who is also a Walter Williams Scholar, now regularly directs the show, which is primarily produced for radio but has an on-camera component. Though his high school experience gave him a head start, working on a talk show has been a whole new learning experience.
"You're directing based on the feel, the energy of the show, rather than on a script," he said. "It's a completely different environment."
For McMillen, bringing in a student to help steer the production is a win-win. After Grace Vance — the previous Radio Friends student director who helmed the show for three years — graduated last year, Rubenstein's can-do attitude came along at the perfect time, while also providing an early chance for the freshman to get into a studio and help create a real product. And he's not alone: Other students currently helping out are freshman Maggie Turner and junior Jeb Goldman.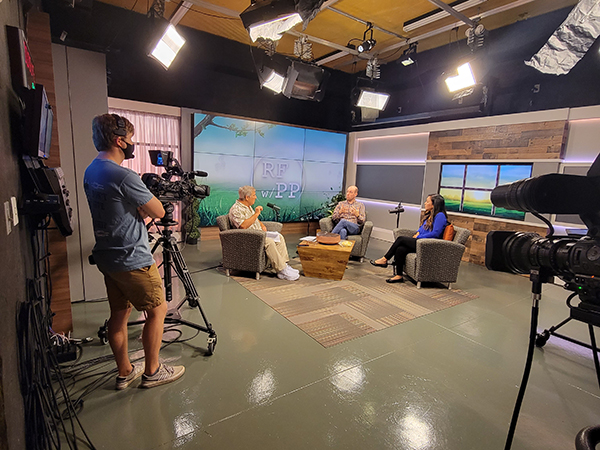 "With Radio Friends, you have an actual deliverable at the end of the day, which means you get to see what it's really like to work on this kind of show," McMillen said. "Sometimes people think they will like the work, but they find out it's much different than they thought it was. So it's great when people take to it."
Rubenstein is in good company. Vance landed a broadcast job at KCRG-TV, an ABC station in Cedar Rapids, Iowa, after graduating. Another former student mentored by McMillen, Stephanie Gatica, went on to work as an editor on James Corden's "Carpool Karaoke" series and other projects for CBS, NBC and Netflix, to name a few. Gatica, who graduated in 2011, fondly recalls working with McMillen.
"Travis was always the kind of mentor that really believed in teaching the next generation and passing the torch," Gatica said. "Working with him at RJI always felt like a safe environment to learn, and it was okay if you messed up, because that just became a teaching moment."
With only one semester at Mizzou under his belt, Rubenstein isn't yet certain what his future holds. In addition to his directing duties, he has started sitting in on "Views of the News," another KBIA-FM talk show, reflecting the self-driven attitude McMillen encourages in the students he mentors.
"He's welcome to do anything he wants," McMillen said.
Updated: February 10, 2022
Related Stories
Expand All
Collapse All
---