Nina Johnson Named Recipient of the 2009 Amy Lenk Staff Excellence Award
Columbia, Mo. (May 7, 2009) — Nina Johnson, the staff librarian for the Columbia Missourian, was named the 2009 recipient of the Amy Lenk Staff Excellence Award during the recent recognition ceremony. Johnson received a $500 cash award and a plaque.
In a nomination letter submitted by the Columbia Missourian faculty, Johnson was praised for her abilities and commitment to the newspaper.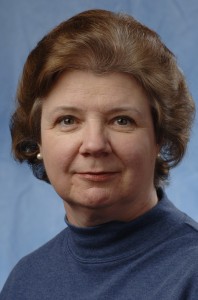 "Nina is organized, responsible and dedicated. She is flexible and willing to adjust to changing circumstances," said her colleagues. "She respects faculty and student information needs and never refuses a request, no matter how small. In fact, her professionalism is one of the hallmarks of her ability to work so effectively among a shifting tide of students every semester."
Missourian editors echoed their appreciation of Johnson. "We make requests at all times of the day, often needing information instantly, and she is always patient, always positive, always reliable," said Tom Warhover, executive editor.
Liz Brixey, the newspaper's city editor, added: "Nina is relentlessly helpful. She makes us her priority. She seems to thoroughly enjoy helping students find whatever they need, no matter how obscure or challenging. We rely on Nina."
The tribute, formerly the Pat-on-the-Back Award, was renamed this year in honor Amy Lenk, who will retire after 35 years of service with the Missouri School of Journalism.
A total of 10 staff members were nominated for this year's award. Five were randomly selected to receive a $25 gift certificate at University Bookstore.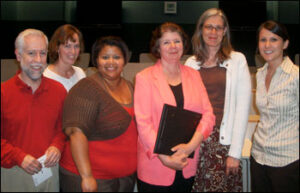 Other nominees for this year's award included:
Tonya Cowans, Undergraduate Advising
Tommy Highbarger, Mailroom
Pat Kelley, Office of the Lee Hills Chair in Free-Press Studies
Travis McMillen, Reynolds Journalism Institute (RJI)
Pat Muck, Fiscal Office
Kelly Peery, RJI
Dora Rogers, Fiscal Office
Sue Schuermann, Journalism Library
Cheryl Spang, Fiscal Office
Staff celebrating service anniversaries in 2009 also were recognized during the ceremony:
25-Year
Amy Lenk, Graduate Advising
Rene Rau, RJI
20-Year
Pat Sternberg, Undergraduate Advising
15-Year
Ken Fleming, RJI and Center for Advanced Social Research
10-Year
5-Year
Justin Giles, J-Net
Pam Johnson, RJI
Kelly Ross, Columbia Missourian
Stephanie Sinn, IRE
A reception was held after the ceremony in the Edward C. Lambert Seminar Room at RJI. The Wilma L. Hogle School of Journalism Endowment Fund provided monies for the program, cash award and reception.
Updated: January 16, 2020
Related Stories
Expand All
Collapse All
---