Ernest Zhang Named Recipient of the Amy Lenk Staff Excellence Award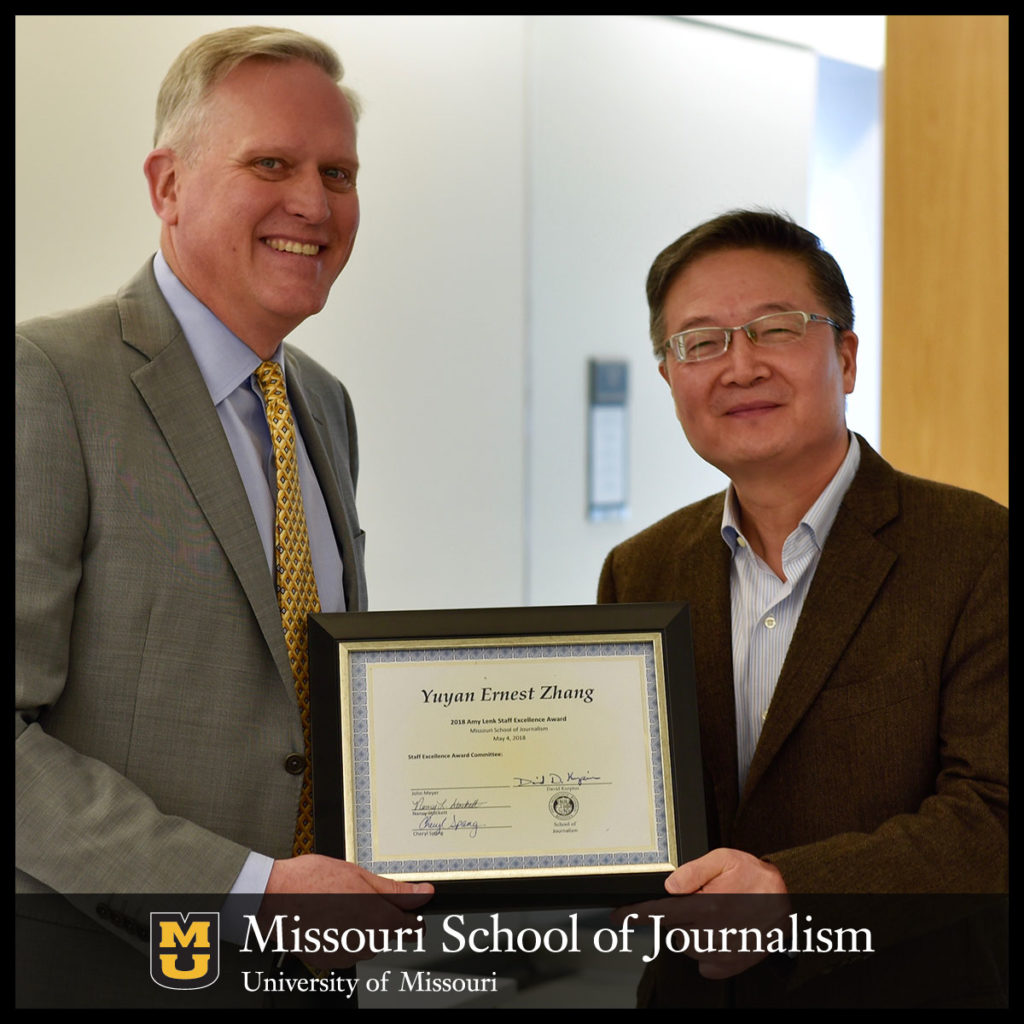 Faculty and staff cited Ernest Zhang as a dedicated, creative person who is committed to promoting the Missouri School of Journalism.
Nominators Cited His Dedication and Professionalism
Columbia, Mo. (May 10, 2018) — Ernest Zhang, director of China Programs for the Missouri School of Journalism, is the 2018 winner of the Amy Lenk Staff Excellence Award. He was named during a recognition ceremony on May 4 in the Palmer Room at the Reynolds Journalism Institute. Missouri School of Journalism Dean David Kurpius presented Zhang with a plaque and a $500 award.
Each year, this award is presented to a staff person who exhibits high levels of professionalism, initiative and creativity. Other selection criteria include helpfulness, innovative thinking and a commitment to the School and the University.
Many throughout the School wrote nomination letters, calling Zhang a dedicated, creative person who is committed to promoting the School of Journalism. Others commented on his professionalism and attention to detail, especially as it relates to the various schedules he arranges and manages in his role as director of the School's China programs.
Others nominated for the award were:
Kimberly Beamer, office support assistant
Amy Bruer, academic adviser
Joe Collins, system support, the Journalism School
Stephen Kelley, system support, The Columbia Missourian
Angela Knoerr, instructional designer
Kara Lehenbauer, office support assistant
Bruce Moore, manager CSM operations, The Columbia Missourian
Pete Ozias, manager student support services
Janet Sievel, academic adviser
The tribute, formerly the Pat on the Back Award, was renamed in 2009 in honor of Amy Lenk, who retired in 2009 after 35 years of service with the School. The recognition is underwritten by the Hogle School of Journalism Endowment Fund, created by a gift from the estate of Wilma L. Hogle (BJ '46).
Several full-time staff members also were recognized for continuous service anniversaries with the University of Missouri:
5 Years
Adelle Banks
Nathaniel Brown
Natalie Hampton
Sheri Hines
Denise Malan
Tiffany McCallen
Brian Pellot
Ron Ribiat
Amy Schiska
Yonat Shimron
Michael Stacy
Jennifer Trom
Ji Young Won
Li Yang
10 Years
Cheri Cherry
Bryan Chester
Carolyn Jackson
Dale Musser
15 Years
30 Years
Updated: November 4, 2020
Related Stories
Expand All
Collapse All
---