Amy Lenk, Longtime Graduate Adviser, Retires
Columbia, Mo. (June 1, 2009) — After working at the Missouri School of Journalism for 35 years, Amy Lenk retired on May 31.
Lenk began working as a secretary in the School's graduate studies office in 1974. In 1979, at age 30, she took a three-year absence to pursue a bachelor's degree in psychology at the University of Missouri. Lenk graduated in 1982 and held a job at a social service agency in Columbia until 1984 when Don Brenner, then the School's associate dean for graduate studies, called her. He had just created a new advising position, and he wanted her to take it.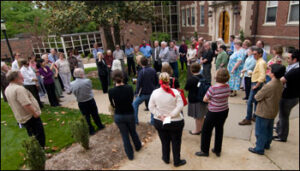 "I was floored," she said. "I had to tell him, 'I can't tell you right now, I'll have to think about it.'" Lenk said she made a pro and con list to help her decide. "The pros far outweighed the cons," she said. "At the top of the list were the students. Second on the list was faculty. That was what brought me back." Twenty-five years later, and days from retiring, Lenk says that the students are still at the top of the list.
Lenk grew up on a small family farm in Fulton, the youngest and only girl of five children. After graduating high school, she worked as a typesetter for the Fulton Sun-Gazette. In 1968, Lenk moved to Columbia and worked as a typist and secretary at MU's medical center before applying for a secretarial position in the School's graduate studies center.
William Taft, BJ '38, MA '39, remembers hiring Lenk when he worked as the director of graduate studies.
"Amy was one who would never be sitting idle at her desk. She would be creating new programs for the graduate school. I think during that time, the J-School had the best graduate records than any other department on the university campus. She kept everything moving," Taft remembered.
Before Lenk returned to the School in 1984 in her new role as academic adviser to both master's and doctoral students, the students had previously been advised by the faculty. "It was fun because there were a lot of students whom I got to know really well," Lenk said. She advised both master's and doctoral students until 2001, when the growing number of students required separating those advising roles.
Keith Sanders, professor emeritus, said that without Lenk, "a succession of associate deans for graduate study would have had ulcers and prematurely graying hair were it not for her. There are scores of J-School alums with graduate degrees who wouldn't have them if it hadn't been for Amy's guiding hand and encouragement," he said. "Simply put, Amy Lenk has been the glue that has held the journalism graduate program office together for three decades."
Ed Lambeth, professor emeritus and former associate dean for graduate students from 1987 through 2000, says he will remember her with deep respect.
"Amy has made substantial and lasting contributions to Mizzou's graduate studies in journalism. Her intelligence, commitment, integrity and knowledge of our faculty and curriculum have helped several generations of our students excel in the profession of journalism as well as in the academy of journalism around the world."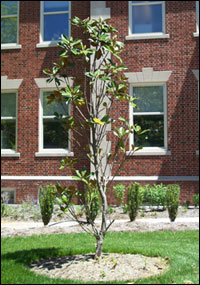 In her time at the School, Lenk has seen the School's faculty more than double. While the master's program enrollment has remained steady, she's seen the doctoral enrollment grow. One reason for this, Lenk noted, is that in the early 1990s, the School made it a priority to hire faculty who were focused on conducting research.
In the fall of 2001, Lenk met another challenge when Associate Dean Esther Thorson approached her with a new goal to create the School's online program. Lenk spread the word about the program to undergraduate alumni. The School was successful in gaining 12 students for the program during the first year, exactly what Thorson and Lenk had hoped for.
E-mail and a Facebook account help Lenk to stay in touch with many of the students she has advised. "Technology has never scared me," she said.
Martha Pickens, who has advised master's students since 2003, says that the graduate studies office has always counted on Lenk for her "legendary institutional memory. We count on her for that, but also for her zany humor, her creativity, her kindness, and for her unfailing sense that our students' well-being is our primary concern," she said.
On Wednesday, May 6, members of the School's faculty dedicated a magnolia tree in Lenk's name. Faculty and students gathered near the tree to offer gratitude for her service. Recalling her own 16 years at the School, Thorson spoke to Lenk and said, "You have really brought sunshine to my every single day. To so many scores and scores of graduate students, you have become a safe haven, a beacon, a family member."
On behalf of the doctoral students, Jeremy Littau spoke. "Halfway through the first year, all of us doctoral students have that freak-out moment where you go, 'What have I gotten myself into?' Amy Lenk shepherds us through that process," he said.
The magnolia tree sits in the courtyard that Walter Williams and Neff Hall shares, in easy view from the office in Walter Williams that Lenk occupied for nearly 20 years. As Dean Mills introduced the tree to Lenk, he said, "We're going to cherish this tree just as we cherished you."
Updated: August 28, 2020
Related Stories
Expand All
Collapse All
---