Nancy Stockett Receives the Amy Lenk Staff Excellence Award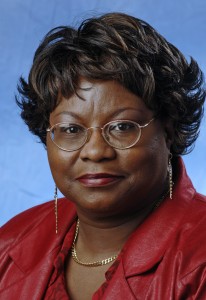 Nominators Praise Her Work Ethic, Friendliness and Politeness
Columbia, Mo. (May 16, 2016) — Nancy Stockett, circulation office manager for the Columbia Missourian, is the 2016 winner of the Amy Lenk Staff Excellence Award. She was named during a recognition ceremony on May 13 in the Fred W. Smith Forum at the Reynolds Journalism Institute. Missouri School of Journalism Dean David Kurpius presented Stockett with a plaque and a $500 award.
The tribute, formerly the Pat on the Back Award, was renamed in 2009 in honor of Amy Lenk, who retired in 2009 after 35 years of service with the School. Lenk was on hand during the award presentation.
Each year this award is presented to a staff person who exhibits high levels of professionalism, initiative and creativity. Other selection criteria include helpfulness, innovative thinking and a commitment to the School and the University.
Many throughout the School wrote nomination letters praising Stockett's work ethic, friendliness and politeness.
"Nancy has one of the most important and most under-appreciated jobs in our School of Journalism. All this with a quiet voice, a warm smile and a cheery greeting even early in the morning. To me, Nancy represents just the kind of colleague epitomized by the legendary Amy Lenk herself."
"Nancy strives every day to give 110 percent effort to her duties, while at the same time making the Missourian office an enjoyable place to work."
"Nancy shows respect to everyone and treats everyone the same."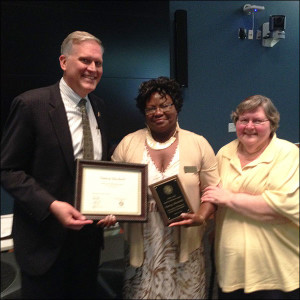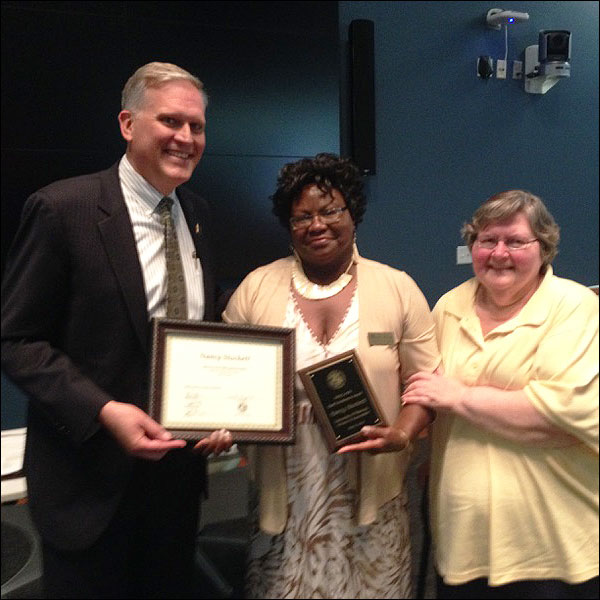 Others nominated for the award were:
Becky Acton, fiscal analyst, Reynolds Journalism Institute
Kim Beamer, administrative assistant
Joe Collins, user support analyst
Kara Lehenbauer, assistant, Reynolds Journalism Institute
Rene Rau, assistant to the executive director, Reynolds Journalism Institute
Alan Toigo, assistant to the dean for undergraduate studies
Several full-time staff members also were recognized for continuous service anniversaries with the University of Missouri:
5-Year
Lauren Grandestaff
James Han
Sheila Holder
Stephen Kelley
Kara Lehenbauer
Alan Toigo
Le Ann Wiseman
10-Year
15-Year
25-Year
30-Year
Updated: September 25, 2020
Related Stories
Expand All
Collapse All
---