Colin Kilpatrick Wins 2007 "Pat on the Back" Award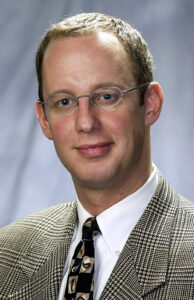 Columbia, Mo. (April 26, 2007) — Executive Director of Advancement Colin Kilpatrick has received this year's "Pat on the Back" award, which honors outstanding contributions by Missouri School of Journalism staff members.
In his position, Kilpatrick oversees the School's fundraising efforts that support faculty, students, facilities and programs. Fellow faculty and staff members remarked upon his management skills, charisma and commitment to the School and MU in their nomination letters.
"Colin is extremely proactive," said Margaret Duffy, associate professor and chair of the School's strategic communication emphasis. "He actively searches for opportunities, often in rather unlikely places and gets great results. Importantly, he is a never-give-up kind of guy."
Kilpatrick's staff members echoed those statements and noted the importance of his work as the School approaches its centennial celebration and dedication of the new Donald W. Reynolds Journalism Institute in 2008.
"He speaks about the history of the School as eloquently as he describes the bright future awaiting young journalists in the next 100 years," said Kimberly Lakin Mize, the School's senior director of development.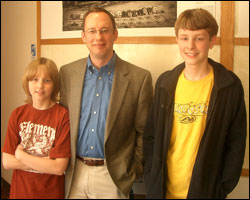 Kilpatrick received the award at an April 23 faculty and staff ceremony, followed by a reception.
Prior to joining the School of Journalism, Kilpatrick served as director of public relations and then as vice president for advancement at Stephens College, a national liberal arts college for women located in Columbia. From 1988-1992, Kilpatrick worked for New Directions for News, a newspaper think tank which was located at the School.
Catey Terry, the School's director of development who has worked alongside Kilpatrick in his various roles, said he makes coming to work a joy.
"Colin has an incredible work ethic, but he also has a great sense of humor which makes him a lot of fun to be around," Terry said. "He is inspiring."
Other nominees for this year's award included:
Angel Anderson, photojournalism administrative assistant;
Warren Mayer, I-Net administrator;
Martha Pickens, graduate school academic adviser and fiscal manager;
Brett Slaughter, J-Net user support analyst;
Cheryl Spang, business manager;
Kim Townlain, magazine office support staff; and
Ernest Zhang, China program coordinator.
This is the 17th year for the "Pat on the Back" award. Those nominated exhibit the highest level of professionalism, initiative and helpfulness, as well as commitment to the School and University's mission.
Updated: April 17, 2020
Related Stories
Expand All
Collapse All
---