Pat Muck Named Recipient of the 2010 Amy Lenk Staff Excellence Award
Columbia, Mo. (May 14, 2010) — Pat Muck, a fiscal analyst for the Missouri School of Journalism, was named the 2010 recipient of the Amy Lenk Staff Excellence Award during the recognition ceremony held May 13 in the Fred W. Smith Forum of the Reynolds Journalism Institute. Muck received a $500 cash award and a plaque.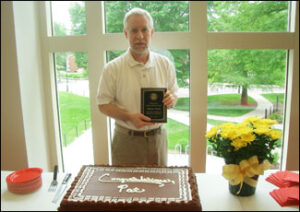 In a nomination letter jointly submitted by Fritz Cropp, director of international programs, and Cheryl Spang, business manager for the School of Journalism, Muck was praised for his good nature and ability to get along with everyone.
"His unflappable nature allows him to handle the competing workload without batting an eye," wrote Cropp and Spang. "His work with the School's money – and particularly with the management of its grants – has helped the School's fiscal office reach an unprecedented state of order in recent years."
Muck works half-time for the international programs office and half-time for the rest of the School of Journalism.
Another nominator highlighted Muck's contributions in the area of grants administration.
"He works tirelessly behind the scene with departments, faculty and staff guiding all who need his help through the complicated rules and forms that make up the grant application process," wrote Helen Pattrin, executive staff assistant II for the School's Office of Development. "With his quiet strength and intelligence, Pat is an exemplary representative of the Missouri School of Journalism."
The tribute, formerly the Pat-on-the-Back Award, was renamed in 2009 in honor of Amy Lenk, who retired last year after 35 years of service with the School.
Other nominees for this year's award included:
Ginny Cowell, Graduate Studies
Salem Fekadu, Fiscal Office
Warren Mayer, Office of Planning and Communications
Phou Sengsavanh, Career Services
Staff celebrating service anniversaries in 2010 also were recognized during the ceremony:
20-Year:
15-Year:
10-Year:
Ginny Cowell, Graduate Studies
Phou Sengsavanh, Career Services
Cheryl Spang, Fiscal Office
Kim Townlain, Magazine Journalism
5-Year:
A reception was held after the ceremony in the Edward C. Lambert Seminar Room at RJI. The Wilma L. Hogle School of Journalism Endowment Fund provided monies for the program, cash award and reception.
Updated: May 11, 2020
Related Stories
Expand All
Collapse All
---